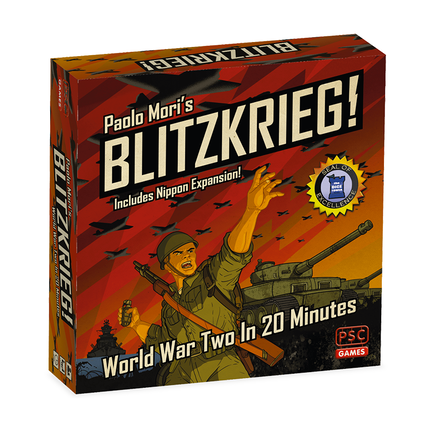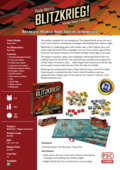 Blitzkrieg Square Edition incl. Nippon
295,00 kr.
Varenummer: PSCBLZ003
New Square Edition: Nu med Nippon udvidelse, opdateret Axis posetekst og en opdateret regelbog!
Det perfekte krigsspil for ikke wargamers! 1 - 2 spillere kæmper om at vinde i WWIIs ikoniske kamp områder, og opbygge deres militære magt.
Antal spillere: 1 - 2 / Spilletid: 20 min. / Alder: 14+ / Sværhedsgrad: medium let / Udg. 2020 / Engelsk manual


Priser er inkl. moms
To spillere (eller solo), der henholdsvis fungerer som de allierede og aksekoalitioner, kæmper om kontrollen over konfliktens vigtigste områder i et udfordrende spil med enkle regler, kort spilletid og mange hårde beslutninger!
Spillerne trækker brikker fra en pose for at bestemme deres startstyrker og for at genopbygge deres tab.
I stedet for at kæmpe kampe med terninger eller kort, allokerer spillerne deres militære ressourcer til hvert områdes kampagner, og kan derved vinde sejrspoint og få yderligere ressourcer samt særlige våben, som kan udnyttes til strategiske fordele mens de spiller.
New Square Edition: Now includes Nippon expansion, updated Axis bag art, and an updated rulebook!
The perfect wargame for non-wargamers! Two players battle across the WWII's most iconic theatres, winning key campaigns and building military might.
Two players, acting respectively as the Allied and Axis coalitions, battle for control of the main theatres of the conflict in a challenging game with simple rules, a short playing time, and many tough decisions!
Players draw unit tokens from a bag to determine their starting forces and to replenish their losses. Rather than fighting battles with dice or cards, players allocate their military resources to each theatre's campaigns, winning war victory points, gaining further resources and special weapons and exploiting strategic advantages as they play.
Refight the whole of WWII several times in one evening!