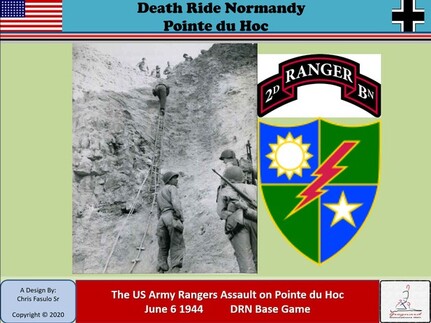 Death Ride: Normandy Point-Du-Hoc
735,00 kr.
Varenummer: Grognard-DRNPH
Death Ride Normandy-serien dækker hele Normandiet-kampagnen fra 6. juni 1944 til Cobra.
Det vil være lige så storslået et spil som Death Ride Kursk og have al rigdommen fra den spilserie.
Denne serie vil blive opdelt i mange mindre spil. Basisspillet fokuserer på operationen ved Point* du Hoc udført af elementer fra 2. Ranger Bataljon.
Priser er inkl. moms
Dette er basis spillet til Death Ride Normandy serien.
Fra producenten herunder:
Death Ride Normandy This game is going to cover the entire Normandy campaign from 6 June 1944 up to Cobra.
It will be as grand a game as Death Ride Kursk and have all the richness of that game series.
This series will be broken down into many smaller games.
The Base Game focuses on the operation at Pt du Hoc conducted by elements of the 2nd Ranger Battalion.
Along with this initial offering is Death Ride Normandy - Omaha Beach.
I am also working on the other beaches will all take the game from the invasion through the end of 10 June 1944.
Videoen viser alle kort som var færdig gjort 2019 ved "Consimworld Expo 2019" fremvisningen. Point-Du-Hoc skal bruges for at tilsætte resten af serien.
Pt du Hoc Map
1x Counter Sheet
1x Scenario Card
DRN Common Charts and Tables (Losses, Air, DRMs, Firepower, Game Turn Track, Battle Board, Examples, Terrain, Shore Fire, Air/Naval Bombardment, Call for Fire, Fire and Assault Tables, Paradrop Tables, C2, and Logistics Tables...) bound into a spiral book
29ID Order of Battle
352ID Order of Battle