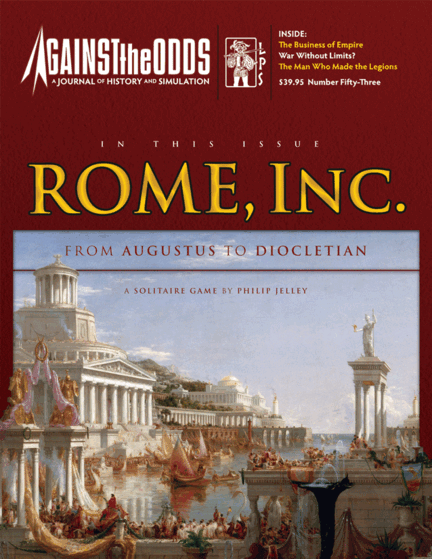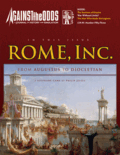 Rome, Inc.
350,00 kr.
Varenummer: ATO053
ROME, INC. Er et solo-spil i det romerske imperium. Udgangspunktet er, at spilleren driver det romerske imperium som en forretning, men med lidt mere blod, brød og cirkus.

Antal spillere: 1 / Spilletid: 180 - 720 Min. / Alder: +14 / Sværhedsgrad: Medium / Udgivet 2021
Andre vare fra Against The Odds

Varen kan desværre ikke købes, da der ikke er flere på lager
Beskrivelse
Indehold
English:
ROME, INC. Begynder med starten af det romerske imperium under Augustus i 27 fvt til Diocletian i 286 e.Kr.
Du styrer hele imperiets arbejde, og kan vælge fire forskellige "startpunkter" (27 f.Kr., 70 CE, 138 CE og 222 CE) og kan køre scenarier af enhver længde efter dit ønske, afhængigt af din virksomheds skarphed og udholdenhed . Hver runde repræsenterede 5-10 år med 10 runder i hvert af de fire scenarier.
Historiske statsmænd vurderes for deres militære og administrative talenter, popularitet og dygtighed til intriger, og hver har en særlig evne. Hver runde ser kriser og udfordringer, som spilleren skal tackle - ligesom en moderne CEO. Forøg "lageret" ved at udvide imperiet og sejre over fjender, som "barbarerne ved porten" eller interne agitatorer. Men kan din ledelse opretholde et godt investeringsafkast?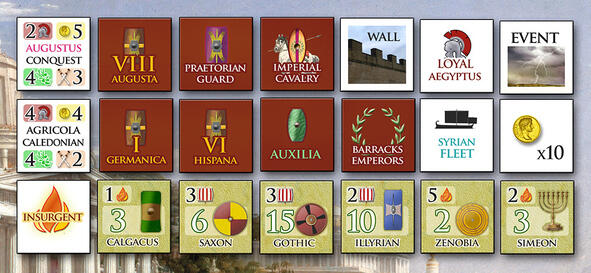 Kortet består af provinser grupperet i militære kommandoer som Britannia og Syrien, hver kommanderes af en guvernør. Provinser kan kontrolleres af barbarer, allierede eller oprørere, som kan erobres og udvikles til fredelige skatteydere. Ud over disse er hjemlandene, hvorfra barbariske krige og fjendtlige ledere plyndrer deres vej fra provins til provins indtil besejret.
Du beslutter, hvor du skal tildele ressourcer (kapitaludgifter), ansætte nye styrker , foretage prestigeprojekter (PR), glæde pøblen (aktionærer) eller endda afsætte en reserve i et regnfuldt årti eller to. Du bliver nødt til at blande militær ekspansion med omhyggelig administration såvel som intriger, så du får mest ud af det, du har hver tur, ligesom enhver moderne virksomhed.
ROME, INC. Vil give dig en ny opfattelse af, hvordan krig er en omkostning, forretning er en fordel, og imperium er et sted midt imellem. Det er op til dig at finde en balance.
For manual: KLIK HER
Map - One full color 22" x 34" map sheet
Counters - 280 full color 1/2" die-cut pieces
Rules length - 12 pages
Charts and tables - 2 pages
Box
ROME, INC. Is a solitaire game of the Roman Empire. The premise is that the player runs the operations of the Roman Empire like a business, but with a bit more blood, bread and circuses.
ROME, INC. begins with the "startup" of the Roman Empire under Augustus in 27 BCE to Diocletian in 286 CE. You'll control the workings of the empire throughout, although you can pick four distinct "starting points" (27 BCE, 70 CE, 138 CE and 222 CE) and run scenarios of any length you like, depending on your corporate acumen and endurance. Each turn represented 5-10 years, with 10 turns in each of the four scenarios.
Historical statesmen are rated for their military and administrative talents, popularity, and skill at intrigue, and each has a special ability. Every turn sees crises and challenges that the player must deal with - much like a modern CEO. Increase "stock" by expanding the empire and triumphing over enemies, like the "barbarians at the gate" or internal agitators. But can your management maintain a good Return on Investment?
The map consists of provinces grouped into military commands such as Britannia and Syria, each commanded by a governor. Provinces may be controlled by barbarians, allies or insurgents, which can be conquered and developed into peaceful tax-payers. Beyond these are the homelands from where barbarian wars and enemy leaders pillage their way from province to province until defeated.
You decide where to allocate resources (capital spending), raise new forces (hiring), undertake prestige projects (public relations), pleasing the mob (shareholders), or even setting aside a reserve for a rainy decade or two. You'll need to blend military expansion with careful administration, as well as intrigue, making the most of what you have each turn, just like any modern-day business.
ROME, INC. will give you a new perception of how war is a cost, business is a benefit, and empire is somewhere in between. It's up to you to find a balance.