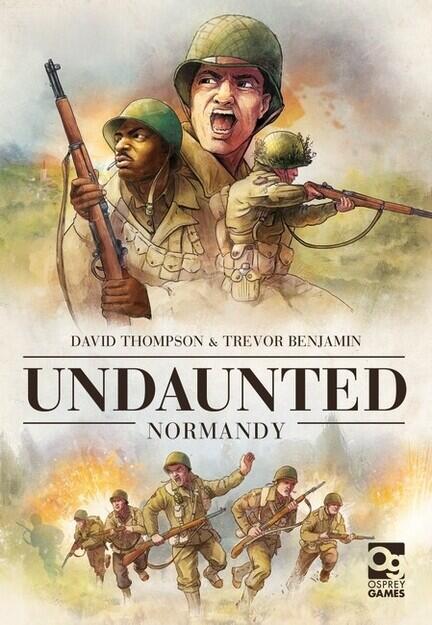 Undaunted Normandy
329,00 kr.
Varenummer: OSP9781472834706
Det anmelderroste, multi-prisvindende kortbaseret spil om Anden Verdenskrig.
Antal spiller: 2 / Spilletid: 45 - 60 min. / Alder: 14+ / Level: Medium / Udg. 2019 / Engelsk manual
Priser er inkl. moms
Beskrivelse
Indeholder:
English:
Juni, 1944. Gennem landinger på D-dagen har de allierede fået fodfæste på Normandiets strande.
Nu skal du føre dine tropper fremad ved at skubbe dem dybere ind i Frankrig og driver de tyske styrker tilbage.
Du vil møde intens modstand, maskingeværild og morterbombardement, men med en stor leder ved din side kan du vende situationen til din fordel!
Undaunted Normandiet er det bedst sælgende kortspil om Anden Verdenskrig, der placerer dig og din modstander i kommando over amerikanske eller tyske styrker, som kæmper gennem en række missioner der er kritiske for krigens udfald.
Brug dine kort til at gribe initiativet, polstre dine styrker eller kontrollere dine tropper på slagmarken.
Stærkt lederskab kan vende kampens tidevand til din fordel, men hensynsløse beslutninger kan vise sig at være katastrofale da hvert tab du tager fjerner et kort fra din bunke.
Tag ansvar i kampens hede og stå fast mod fjenden og bliv derved Undaunted (uberørt).
108 cards
18 large map tiles
dice
tokens
campaign booklet
The critically acclaimed, multi-award-winning World War II deck-building game.
June, 1944. Through the D-Day landings, the Allies have seized a foothold on the beaches of Normandy. Now you must lead your troops forward as you push deeper into France and drive the German forces back. You will face intense resistance, machine gun fire, and mortar bombardment, but a great commander can turn the situation to their advantage!
Undaunted: Normandy is the best-selling World War II deck-building game, placing you and your opponent in command of American or German forces fighting through a series of missions critical to the outcome of the war. Use your cards to seize the initiative, bolster your forces, or control your troops on the battlefield. Strong leadership can turn the tide of battle in your favour, but reckless decisions could prove catastrophic, as every casualty you take removes a card from your deck. Take charge amidst the chaos of battle, hold fast in the face of opposition, and remain undaunted.