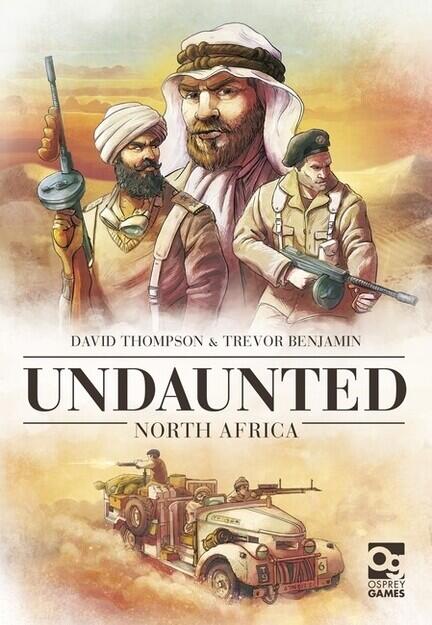 Undaunted North Africa
279,00 kr.
Varenummer: OSP9781472837318
Opfølgeren til den anmelderroste WWII Undaunted.
Antal spiller: 2 / Spilletid: 45 - 60 min. / Alder 14+ / Level: Medium light / Udg. 2020 / Engelsk manual
Priser er inkl. moms
Beskrivelse
Indeholder:
English:
Den nordafrikanske kampagne er begyndt.
Tag kontrol over den britiske hærs Long Range Desert Group, og operer bag fjendens linjer, eller kommander over de formidable italienske styrker der modarbejder dem.
I denne selvstændige efterfølger til Undaunted: Normandy, vil spillerne igen føre deres tropper igennem en varieret række missioner.
Når tabene stiger, forlader de sårede enheder spillernes kortbunke og tvinger dem til at tilpasse sig i takt med de skiftende taktiske omstændigheder.
Brug dine kort til at styrke dine tropper, indsæt køretøjer til at rykke hurtigt frem på slagmarken og tag initiativet, mens du prøver på at bestemme resultatet af den nordafrikanske kampagnes slutning.




88 cards
22 large map tiles
4 dice
tokens
campaign booklet
The North African Campaign has begun. Take control of the British Army's Long Range Desert Group and operate behind enemy lines or command the formidable Italian forces opposing them. In this standalone sequel to Undaunted: Normandy, players will once again lead their sides through a varied series of missions. As casualties mount, wounded units leave the players' decks, forcing them to adapt in the face of changing tactical circumstances. Use your cards to strengthen your forces, deploy vehicles to advance rapidly across the battlefield, and seize the initiative as you determine the outcome of the North African Theatre.