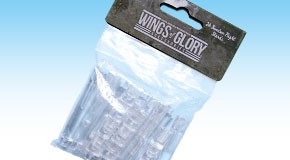 Wings Of Glory Bag Of 24 Bomber Flight Stands
45,00 kr.
Varenummer: AGSWGA503
Med dette Wings of Glory tilbehør, løber du aldrig mere tør for højdepinde.

Inkluderet i denne pose er 24 ekstra pinde, der bruges i spillet til at markere dit flys højde.

Priser er inkl. moms
Beskrivelse
Indeholder
English:
Uanset størrelsen på din bombeflysamling vil de 24 pinde der følger med i posen, give dig mulighed for at få dine fly over den normale grænse på 4, eller til at kompensere for skader eller tab.
4 Long Bomber Flight Stands
20 Short Bomber Flight Stands
with this Wings of Glory accessory, you will never run out of flight stands anymore. Included in this bag are 24 additional pegs which are used in the game to mark the altitude of your airplane.
Whatever the size of your bomber collection, the 24 pegs included in the bag will allow you to get your planes above the normal limit of 4, for use with the "Fly higher" rules, or to make up for damages or losses.
Four long pegs and 20 short pegs are included in each bag.