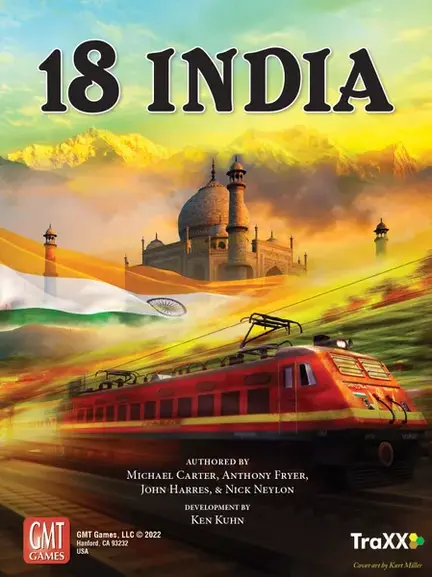 18 India
650,00 kr.
Varenummer: GMT23P01
India's railroad history began in 1837 when The Red Hill Railway used the country's first steam-powered locomotive to carry stone for road work to Madras, modern-day Chennai.
In 1845, India's first railway was incorporated, the Madras Railway.
Sixteen years later, on a warm April day in 1853, a 14-carriage train carrying 400 passengers was hauled 21 miles by three steam locomotives - the Sahib, Sindh, and Sultan - and passenger railway service was thus initiated in India.
From there, as they say, the rest is history, and India today has the world's fourth-largest railway network.
Andre vare fra GMT Games

Antal spiller:2-5 / Spilletid: 150-240 Min. / Alder: 14+ / Sværhedsgrad Medium-Heavy / Udgivet 2023
Priser er inkl. moms
18 India is an operational railroad game for 2 to 5 people that plays in about 3 hours.
The game is inspired by 1829 Mainline by Francis Tresham, and while the venerable Mr. Tresham created some novel mechanics for that game, many of them are not ideal for players that eschew in-game randomness.
In 18 India, those random elements are transformed into an amazing level of pre-game variability, which gives each session of the game a different character.
For regler: TRYK HER
1 22" x 34" Mounted Map
210 Track Tiles
125 Wooden Tokens
253 Cards
20 Company Charters
1 20-page Rulebook