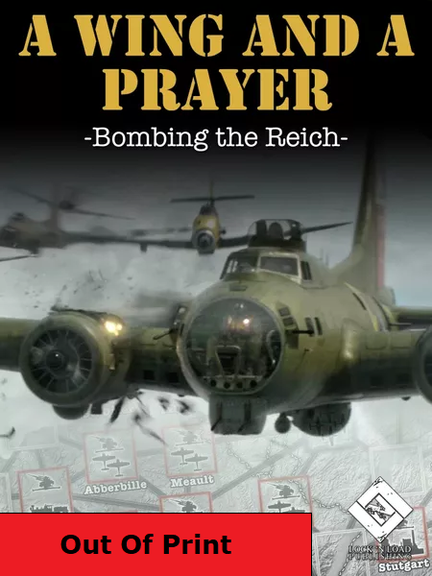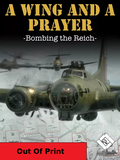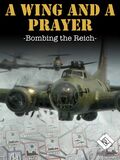 A Wing And A Prayer: Bombing The Reich
629,00 kr.
Varenummer: LLP313541
I midten af ​​1942 ankom United States Army Air Forces (USAAF) til Storbritannien udstyret med B-17 Heavy Bombers, også kaldet "Flying Fortress" på grund af deres tunge defensive bevæbning.

USAAFs kommandører vedtog en strategi om at konfrontere Luftwaffe direkte, ved de til stadighed større luftangreb, som de fløj over Vesteuropa, hvor USAAF bombede den tyske krigsmaskine.
Antal spillere 1 / Spilletid 60 - 120 min. / Alder 12+ / Sværhedsgrad: Medium-Light / År. 2016
Andre vare fra Lock N Load Publishing


Varen kan desværre ikke købes, da der ikke er flere på lager
A WING and a PRAYER påtager du dig rollen som en kommandør for en eskadrille af B-17 "Flyvende fæstninger", som var stationeret i England under anden verdenskrig.

Dit mål er at styre din eskadrille og gennemføre en kampagne bestående af en række dagslysbombemissioner mod strategiske aksemål.

Dagslysbombemission over Tyskland:

"Da vi nærmede os målet, var antiluftskytset foran os utroligt og skræmmende! Vores tanker var 'God Gud! Hvordan kan noget komme levende igennem dette?
'Vi vidste alle, hvor præcis antiluftskytset var over Tyskland på grund af kanonernes radarkontrol…. Boom, Boom, Wham!
Den kraftige støj kom nedenunder os. Men Inden vi kunne bekymre os om det, knitrede radioen, målet forude, gør klar til smide bomberne".

- Ukendt B-17 Crew Member
For: A Wing and a Prayer Update Package v2.4: TRYK HER
In mid-1942, the United States Army Air Forces (USAAF) arrived in Britain equipped with B-17 Heavy Bombers.
The B-17, nicknamed the "Flying Fortress" because of their heavy defensive armament. The USAAF Commanders adopted the strategy of taking on the Luftwaffe head on, in larger and larger air raids flying over Western Europe. The USAAF bombed the German war machine.
A WING and a PRAYER is a design by Erik von Rossing where you assume the role of a Commander of a Squadron of B-17 "Flying Fortresses" stationed in England during World War II. Your Goal is to manage your squadron aircraft and complete a campaign consisting of a series of Daylight Bombing Missions against strategic Axis targets. To complete your mission it's going to to take a wing and a prayer.
Daylight Bombing Mission over Germany
"As we approached the target the enormous field of flak ahead was unbelievable. And frightening! Our thoughts were 'Good God! How can anything live through that?' We all knew how accurate the flak was over Germany. The German gunners had intense radar control…. Boom, Boom, Wham! The heavy crashing noise came from below us. Before we could worry about it, the radio crackled, target ahead, prepare for bombing run".
- Unknown B-17 Crew Member