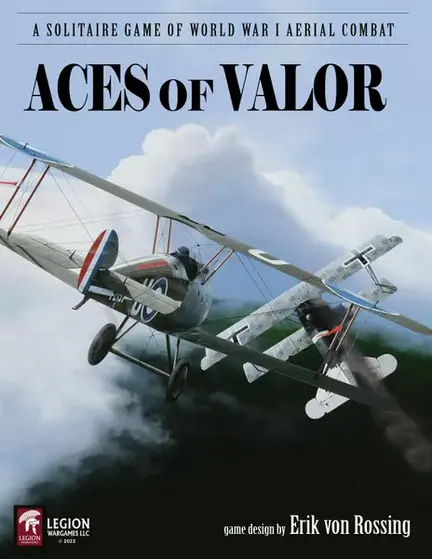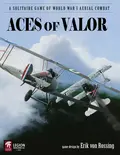 Aces of Valor
650,00 kr.
Varenummer: LWG2205
Welcome to France! Aces of Valor is a solitaire game where you command a fighter squadron on the Western Front during World War I through a campaign of multiple missions to score as many victory points as possible to assist the war effort. You can play as the Germans, or one the Entente powers (British, French, or Americans). Each aircraft counter represents the pilot and the aircraft combined, and your squadron will have up to eight at any given time.
Antal spiller: 1 / Spilletid: 30 Min / Alder: 12+ / Sværhedsgrad: Medium-light / Udgivet 2022
Andre vare fra Legion Wargames

Priser er inkl. moms
The player chooses the campaign's duration (8, 12 or 16 missions), and draws a card to determine the objective of each mission, which includes patrols, trench strafing, photo recon, artillery spotting, balloon busting, and bomber escort.
The player's flight moves across a gridded map that is a semi-historical representation of the Western front.
Anti-aircraft fire is heaviest near the trenches but can happen anywhere over enemy territory.
When combat occurs, aircraft are moved to an "Initiative Track" for up to three rounds of combat, where pilot skill, aircraft performance, and luck all come into play to determine the outcome.
The player earns mission points by destroying enemy aircraft and ground targets, and also by escorting bomber and 2-seater aircraft on successful bombing, photo reconnaissance and artillery support missions.
When the flight lands, mission points are converted to victory points or used to repair and replace aircraft as well as upgrade aircraft to newer, better models.
The goal is to earn enough victory points to achieve a minor, major or strategic victory.
For regler. TRYK HER