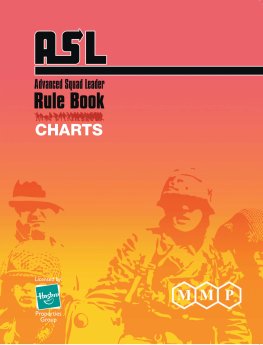 ASL Pocket Charts
325,00 kr.
Varenummer: MMPASLCHARTPE
New from MMP is the Pocket Charts booklet that collects all the ASL charts in a reduced-size, spiral-bound format. Following in the footsteps of the innovative Pocket Edition Rulebook, the Pocket Charts booklet has all the chapter dividers and charts from the full-size ASL Rulebook, including Chapter W.
Printed on quality paper thinner than the regular ASL Rulebook but thicker than the Pocket Edition Rulebook, the Pocket Chart booklet is about 1/4 inches thick and measures approximately 7.5 X 9.5 inches, with an IFT chart on the back cover. The Pocket Charts booklet is a comprehensive and handy table-side supplement to the core rules that no devoted ASL player should be without.
Andre vare fra Multi-Man Publishing

Priser er inkl. moms