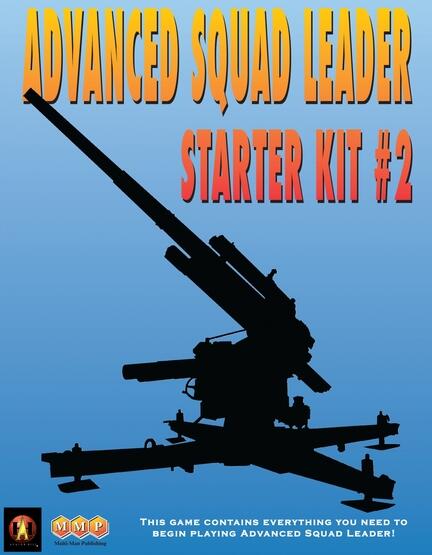 Advanced Squad Leader: Starter Kit #2
329,00 kr.
Varenummer: MMPASLSK2
ASL Starter Kit # 2 er et selvstændigt modul, der giver spillerne mulighed for at spille Advanced Squad Leader næsten med det samme.

Antal spiller: 1 - 2 / Spilletid: 180 Min. / Alder: 12+ / Sværhedsgrad: Medium / Udgivet 2005 Gen Udg. 2021
Andre vare fra Multi-Man Publishing

Priser er inkl. moms
Beskrivelse
Indeholder:
English
Fra udvikleren:
En liberalt illustreret regelbog lærer ASL spillere at bruge begreberne i ASL.
Hvis du ejer og spiller ASL Starter Kit # 1, vil du blive glædeligt overrasket over at finde ud af, hvor let det er at komme ind i de nye regler, som ASLSK # 2 tilføjer - vi har fremhævet de nye regler, så du kan springe over at genlæse det, du har lært i ASLSK # 1 og gå direkte til til de nye regler!
Hvad tilføjer ASLSK # 2? Kanoner! Artilleri. Anti-tank kanoner.
Den berømte og dødbringende tyske "88".
Morter og bazookaer!
ASLSK # 2 tilføjer "to hit" -proceduren til det fundament du lærte i ASLSK # 1.
Og hvis du ikke fik ASLSK # 1? så er der to "kun infanteri" -scenarier for at få dig op i fart!
Dette svarer på det uundgåelige spørgsmål, vi får med Starter Kit-konceptet. Har jeg brug for ASLSK # 2, hvis jeg har ASLSK # 1?
Startsættene er selvstændige. Hver sæt har alt hvad du behøver for at spille hvad der er i kassen og som tilføjer ASL-viden som du har fra tidligere startpakker.
Vi forventer ikke at ændre det du har lært fra tidligere startpakker (for eksempel tilføjer ASLSK # 2 ca. 4 sider regler til basen bygget af ASLSK # 1).
Et bedre spørgsmål ville være "Har jeg brug for ASLSK # 1, hvis jeg køber ASLSK # 2?". Det korte svar er et rungende nej! Du kan dykke lige ind med ASLSK # 2. Men hvis du gør det og du kan lide spillet, tilføjer ASLSK # 1 flere landkort og scenarier (kun infanteri), som du kan nyde.
2 8x22 Geomorphic Maps (w and x) for the ASL System

1 full Countersheet of 1/2" counters
1 half Countersheet of 5/8" counters
8 scenarios printed on 4 individual cardstock sheets
2 quick reference charts printed on cardstock sheet
1 20-page rules booklet (about 17 pages are rules) with plentiful color illustrations
2 dice
Scenario List:
S9 Ambitious Assault Avola, Sicily, 10 July 1943
S10 Paper Army Sarandoporo River Valley, Greece, 3 Nov 1940
S11 A Long Way to Go Biscari Station, Sicily, 10 July 1943
S12 Over Open Sights Skyline Drive, Luxembourg, 17 December 1944
S13 Priority Target Korinthos, Greece, 26 April 1941
S14 88s at Zon Zon, Holland, 17 September 1944
S15 Hammer to the Teeth Bleialf, Germany, 16 December 1944
S16 Legio Patria Nostra Radicofani, Italy, 18 June 1944
Time Scale: 2 minutes per Game Turn
Unit Scale: 5 to 10 men, plus individual leaders, vehicles, guns
Map Scale 40 meters per hex
Players: 2 (also suitable for solitaire or team play)
Complexity: Medium
Solitaire Suitability: Medium
ASL Starter Kit #2 is a self-contained module which will let players start playing Advanced Squad Leader almost immediately.
A liberally-illustrated rulebook teaches gamers ASL using a conversational style to teach the concepts of ASL.
If you own and play ASL Starter Kit #1 you will be pleasantly surprised to find how easy it is to spot the new rules ASLSK#2 adds - we've highlighted the new rules so that you can skip rereading what you've learned in ASLSK#1 and get right to the new rules!
What does ASLSK#2 add? GUNS! Artillery pieces. Anti-tank guns.
The famous and deadly German "88". Mortars and bazookas!
ASLSK#2 adds the "to hit" procedure to the foundation you learned in ASLSK#1. And if you didn't get ASLSK#1? There are two "infantry only" scenarios to get you up to speed!
This answers the inevitable question we get with the Starter Kit concept. Do I need ASLSK#2 if I have ASLSK#1?
The Starter Kits are self contained. Each has everything you need to play what's in the box, with the higher numbers adding to the ASL knowledge you'll have from playing previous Starter Kits.
We do not anticipate changing what you've learned from prior Starter Kits (for example, ASLSK#2 adds about 4 pages of rules to the base built by ASLSK#1).
A better question would be "Do I need ASLSK#1 if I buy ASLSK#2?". The short answer is a resounding no! You can dive right in with ASLSK#2. But if you do, and you like the game, ASLSK#1 adds more boards and scenarios (infantry only) for you to enjoy. We know it's a little confusing, we hope this clears it up a bit.