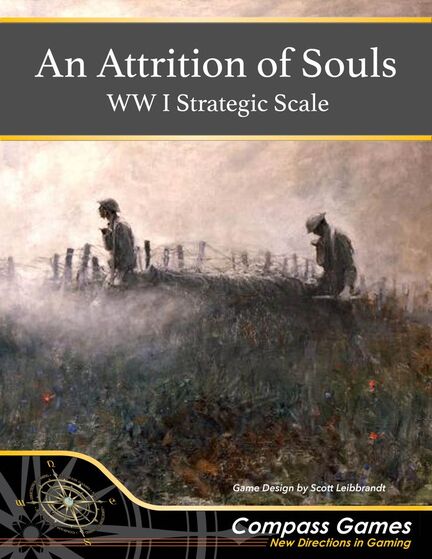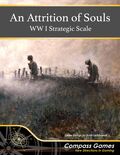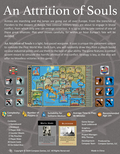 An Attrition Of Souls
610,00 kr.
Varenummer: CPS1117
Hære marcherer og lamperne går ud over hele Europa. Fra skyttegravene i Flandern til stepperne i Rusland er to kolossale militærblokke ved at indgå i en brutal konflikt, hvor der kun er en vinder. Det er op til dig at tage kontrol over en af ​​disse store alliancer. Planlæg dine bevægelser omhyggeligt, for inden for en time vil Europas skæbne blive bestemt.

Antal spiller: 2 / Spilletid: 30 - 90 min. / Alder: 14+ / Sværhedsgrad: Medium/light / Udgivet 2020
Andre vare fra Compass Games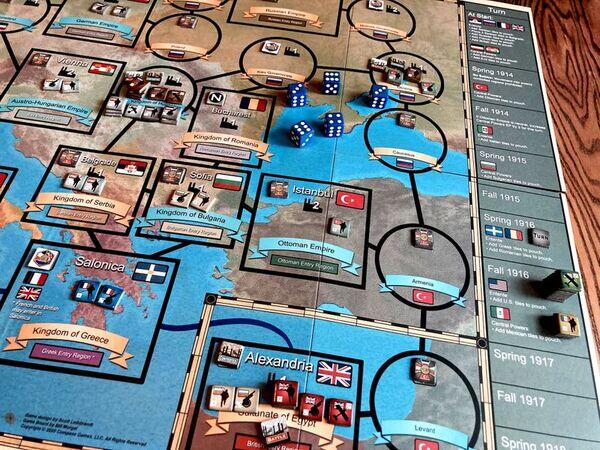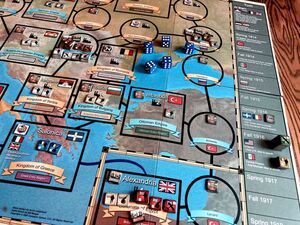 Priser er inkl. moms
Beskrivelse
Indeholder:
English:
An attrition of Souls er et let, tempofyldt krigsspil i strategisk skala, der dækker den store krig, designet med en høj grad af Replay-evne.
Dette luksuriøse spil med mounted-map og store brikker har et unikt placeringssystem for at simulere første verdenskrig.
Hver omgang vil du trække tilfældigt brikker fra en pose baseret på dine industrielle kræfter og bruge dem efter bedste evne.
Strategi er nøglen til spillet på grund af det utilgivende kampsystem, der fanger det forfærdelige slid som er i denne konflikt; terningerne giver ingen blodløse sejre eller udsættelse af konflikten for nogle af parterne. Omgivet af fjender på alle sider skal centralmagterne angribe aggressivt i begyndelsen af ​​krigen.
Eksempel på brikker: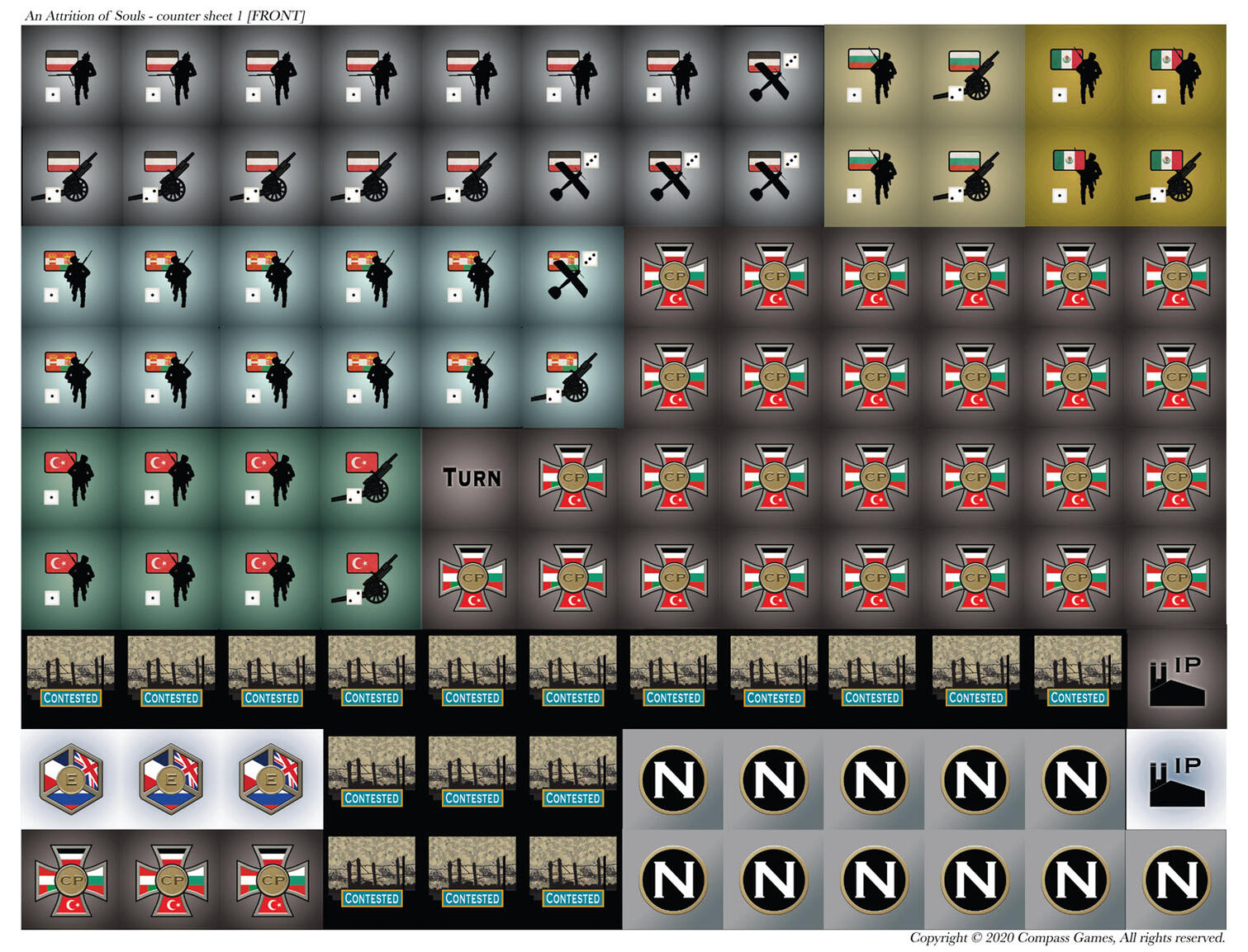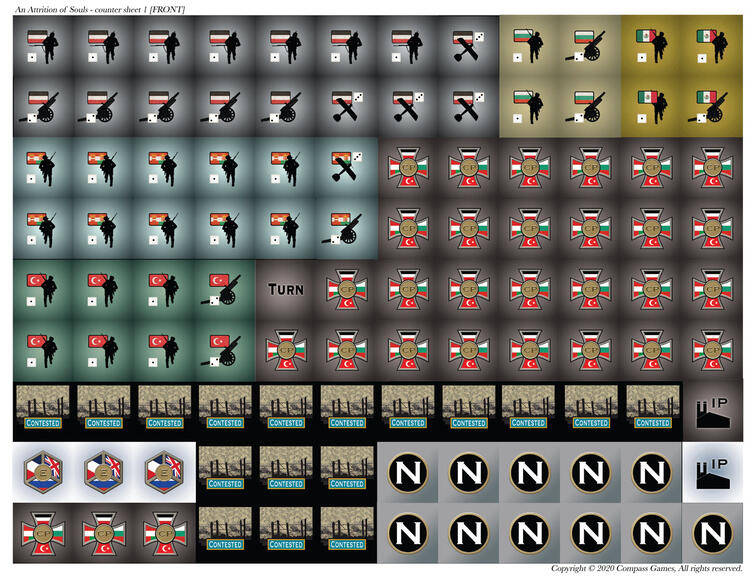 Spilleren med den Central Power vil blive tvunget til at beslutte, om han vil kaste en andel af sine styrker for løverne ved den belgiske grænse eller tage en a-historisk sti mod øst for at knuse den russiske bjørn. En anden ting at holde for øje, er hvis du skal have en chance for sejr, er at holde farten, da krigen skal kæmpes på fjendens jord.
Oprindeligt med mindre våben og klasse ind den tyske hær, skal Entente-spilleren (alliance mellem Storbritannien, Frankrig, Serbien, Belgien, Italien, Rusland, Japan og Kina) vælge hvor han skal holde linjen, og hvor den skal afstå territorium.
Det store bagland i det russiske imperium giver dig et dybt forsvar, men Rusland der er modtageligt for angreb fra tyskerne, østrigerne og tyrkerne, står over for et potentialet sammenbrud.
Eksempel på kort: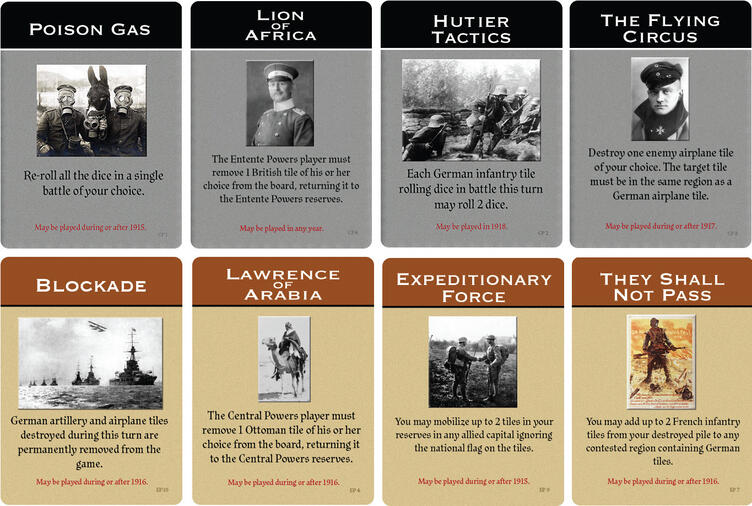 Nye allierede vil slutte sig til din sag i løbet af konflikten, men hvis de erklærer krig for tidligt og før de er fuldt forberedt, kan de blive til endnu et land som bliver opslugt.
An Attrition of Souls giver også stor variation med hensyn til krigens længde. Nogle spil ender med afgørende sejre i 1915, og andre vil trække sig ud i brutale dødvande, der varer indtil slutningen af 1918.
Ikke to spil er ens. Hertil kommer en overflod af valgfrie regler, der bringer ekstra historisk dybde til spillet samt afbalancerer spillet for spillere med forskellige færdighedsniveauer.
Manual TRYK HER
Unboxing/gennemgang:
2020.
Components:
Mounted Mapboard
Two Counter Sheets
20 Event Cards
Rules booklet
Entente Player Mat
Central Powers Player Mat
Two Player Aid Cards
Two Pouches
Ten 6-sided Dice
Game Box
Product Information:
Complexity: 4 out of 10 (Low)
Solitaire Suitability: Medium
Time Scale: 6 months per turn
Map Scale: abstract regional map of Europe
Unit Scale: Army and Army Group (each tile = approx. 250,000 men)
Players: One or Two, Best with Two
Game Credits:
Designer: Scott Leibbrandt
Artist: Bill Morgal
Armies are marching and the lamps are going out all over Europe.
From the trenches of Flanders to the steppes of Russia, two colossal military blocs are about to engage in brutal conflict, from which only one can emerge victorious.
It is up to you to take control of one of these great alliances. Plot your moves carefully, for within an hour Europe's fate will be decided.
An Attrition of Souls is a light, fast-paced wargame at the strategic scale covering the Great War, designed with a high degree of replayability—no two games play alike.
This deluxe game with mounted mapboard and large game counters features a unique tile-placement system to simulate the First World War.
Each turn, you will randomly draw tiles from a pouch based on your industrial points and use them to the best of your ability.
Game strategy is key due to the unforgiving combat system capturing the horrific attrition of this conflict; the dice offer no bloodless victories or reprieve for either side.
Surrounded by enemies on all sides, the Central Powers must strike aggressively at the outset of the war.
The Central Powers player will be forced to decide whether to hurl the lion's share of his forces across the Belgian border, or take an a-historical path eastward to crush the Russian bear.
Keeping momentum is key as the war must be fought on enemy soil if you are to have any chance of victory.
Initially outgunned and outclassed by the German army, the Entente player must choose where to hold the line and where to cede territory.
The vast hinterlands of the Russian Empire offer you some defense in depth, but Russia, susceptible to attack by the Germans, Austrians, and Turks, has the potential for sudden collapse.
New allies will join your cause over the course of the conflict, but if they declare war too early, before they are fully prepared, they may turn into nothing more than additional land for your opponent to devour.
An Attrition of Souls also offers great variability regarding the length of the war. Some games will end with decisive victories in 1915 and other will draw out into brutal stalemates that last until the end of 1918.
No two games play alike. Added to this is a plethora of optional rules that bring additional historical depth to the game as well as balancing the game for players of different skill levels.