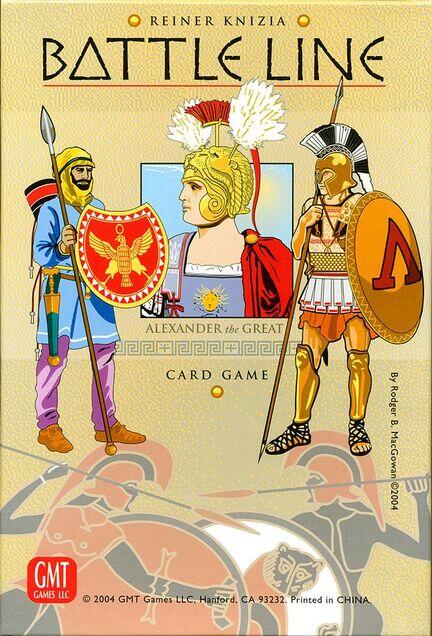 Battle Line
210,00 kr.
Varenummer: GMT0012-17
Battle Line er et kortspil for to spillere bygget op omkring temaet krigsførelse under Alexander den Stores tidsalder.
En klassikker som er genudgivet 11 gange.
Antal spiller: 2 / Spilletid: 30 min. / Alder: 12+ / Sværhedsgrad: Medium-Light / Gen. Udgivet 2019.
Andre vare fra GMT Games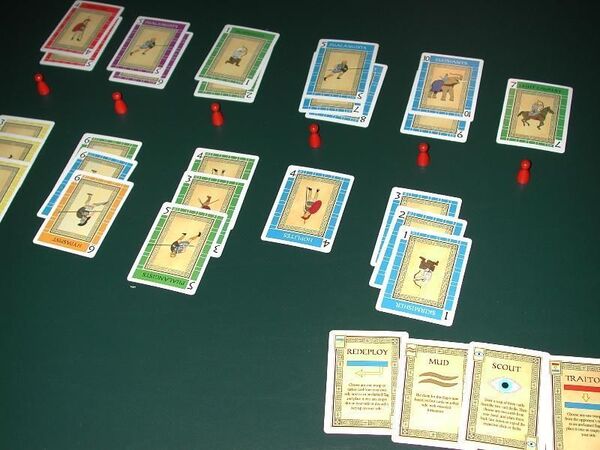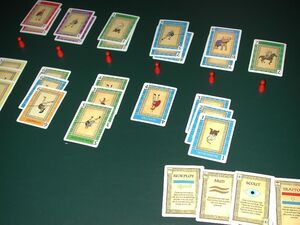 Priser er inkl. moms
Beskrivelse
English:
Indeholder:
Battle Line har 60 fuldfarvede kort der skildrer periodens fremtrædende formationer (krigselefanter, tunge kavalerier, Phalanx osv.) og 10 fuldfarvede taktiske "wildcards", der giver spillerne ekstra fleksibilitet og valgmuligheder samt hjælper med at gøre hver et nyt slag, helt anderledes end det sidst.
Battle Line tager omkring 30 minutter at spille.
For at vinde skal du skabe kraftfulde formationer langs din side af kamplinjen som er overlegne i forhold til din fjendes.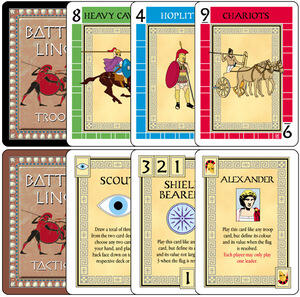 Sejren går til den spiller, der vinder 5 af de 9 kampflag eller tre tilstødende flag (et gennembrud).
Baseret på Reiner Knizias originale design udgivet i Tyskland som "Shotten-Totten", forbedrer og udvider Battle Line dette spilsystem for at give spillerne endnu flere taktiske muligheder og mere gennemtænkte beslutninger.
Hvordan vil du mønstre din kamplinje?
Vil du bruge dine elefanter til at trampe et hul i fjendens front eller sende Alexander til fronten for at vinde et kritisk flag?
Måske vil du sende ledsager kavaleriet, for at lede eller forstærke et afgørende punkt i linjen, eller måske vil du stole på dine spioner til at bestemme fjendens styrker og svagheder før du sender dine bedste styrker.
Du vil altid have masser af valg.
Ved hvert kortspil vil du bestemme styrken og retningen af dit angreb, mens du planlægger at afværge din fjendes fremrykning.
I Battle Line leder du og din modstander de kombinerede hære fra æraens største enheder.
Vil du, ligesom Alexander, regere suverænt?
Spil Battle Line, og find ud af det.
Battle Line is a two-player card game built around the theme of warfare during the age of Alexander the Great. Battle Line features 60 full-color cards depicting the prominent formations of the period (War Elephants, Heavy Cavalry, Phalanx, etc.) and 10 full-color tactics "wildcards" that give players extra flexibility and choices and help make each new battle wildly different from the last.
Battle Line takes about 30 minutes to play. To win, you must create powerful formations along your side of the line of battle that are superior to those of your enemy. Victory goes to the player who wins 5 of the 9 battle flags (an envelopment) or three adjacent flags (a breakthrough). Based on Reiner Knizia's original design published in Germany as Shotten-Totten, Battle Line enhances and expands that game system to give players even more tactical options and gut-wrenching decisions.
How will you muster your battle line? Will you use your elephants to trample a hole in the enemy front, or send Alexander to the front to win a critical flag? Maybe you'll dispatch the Companion cavalry to lead or reinforce a crucial point in the line, or perhaps you"ll rely on your spies to determine the enemy"s strengths and weaknesses before committing your best forces. You'll always have plenty of choices. With every card play, you'll determine the strength and direction of your attack while plotting to fend off your enemy's advances.
In Battle Line, you and your opponent lead the combined arms of the greatest units of the era. Will you, like Alexander, reign supreme? Play Battle Line, and find out.
60 full-color Troop cards and 10 Tactics cards
9 Flags (plastic pieces)
4-page Rule Book