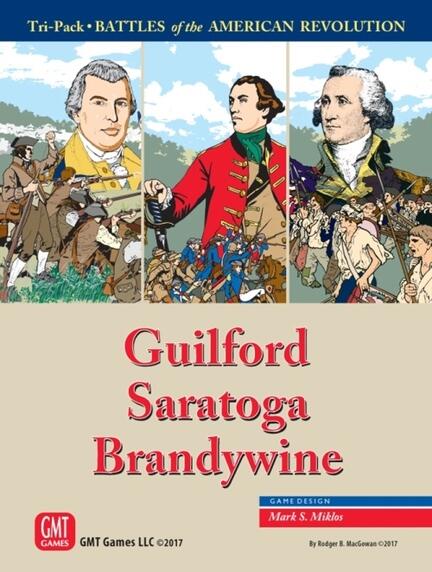 Battle Of The American Revolution Tri-pack
565,00 kr.
Varenummer: GMT1702
Denne alt-i-en pakke består af nye udgaver af flagskibsspillet i serien -Saratoga, Brandywine og Guilford,

Antal spiller 1 - 2 / Spilletid 180 - 240 minutter / Alder 12+ / Sværhedsgrad Medium / Engelsk manuel.
Priser er inkl. moms
Saratoga:

Inkluderer alle de nye brikker, der er leveret gennem årene, plus de nye Momentum og "Rally on Me" brikker til serien.
Denne kamp inkluderer et nyt historisk scenario med kampene omkring Freeman's Farm.
In all the spectacle of war there has seldom been a sight the equal of British General Burgoyne's campaign of 1777. The float and march south from Canada had almost a surreal quality juxtaposed against the Adirondack wilderness. Hundreds of vessels making up an immense inland navy on Lake Champlain transported nearly 9,000 combatants together with 138 cannon. Burgoyne's objective was Fort Ticonderoga and from there, Albany, and a rendezvous with British forces coming from New York City. The strategic purpose of the campaign was nothing short of an end to the American Rebellion.
The intrigue on the American side lay in the cult of personality. Saratoga was to be Benedict Arnold's greatest victory in a string of successes which rank him among the finest field commanders of the era. Known to all Americans as the great traitor, it is ironic to discover that twice he salvaged the Revolution from certain collapse. It was Arnold's conspicuous gallantry and bold leadership which assured America victory at Saratoga and, by extension, its independence.
The fighting at Freeman's Farm would be savage. Here no farmer's militia, but rather Continental Regulars (anxious to redeem a recent reputation for retreat), stood toe to toe with Europe's finest. The sanguinary nature of the fighting was summed up best by American Brigadier General John Glover who said, "Both sides seemed determined to conquer or die."
It's the 19th of September, 1777. Do you, as the British, attempt to storm the prepared American positions on the high ground at Bemis Heights in order to open up the River Road and the most direct route to Albany? Or do you attempt to turn the American left where intelligence reports the American defenses are incomplete and the ground favors your approach? How will you employ the large number of Hessian mercenaries in your army? Will their performance match their reputation?
As the Americans do you wait on Bemis Heights for the approach of the enemy as General Gates preferred, or do you sortie and meet the approach of the British in the forests where their artillery will be of little value? Will Generals Gates and Arnold cooperate, or will their feud spell disaster for the American cause? And what of the fog on this chilly Autumn morning? Will it be an ally to the Americans by impeding the progress of the enemy?
These are only a few of the challenges facing you as you relive one of history's most decisive battles and the turning point of the American Revolution.
Brandywine:
An early morning fog burned off with the dawn, and revealed two long columns of scarlet and blue clad troops. This was His Majesty's Royal Army, commanded by General Sir William Howe. They were marching through the extreme southeastern corner of Pennsylvania and heading toward fledgling America's capital at Philadelphia. Only short weeks earlier this army had disembarked at Head of Elk, Maryland, after a 32-day voyage from New York City aboard the largest armada North America has ever seen. With some 14,000 troops, including crack German mercenaries and elite American Loyalist units, Howe's army was about to execute a flanking maneuver of "Jacksonian" proportions.
General George Washington, holding interior lines at Morristown, New Jersey, was unsure whether Howe would move north in support of the British invasion from Canada (see Saratoga, 1777), or whether he would move south against the Capital. Once the armada set sail, however, Washington shifted southwest and took up a naturally strong defensive position, on high ground behind Brandywine Creek, astride the main road to Philadelphia. Washington posted his troops advantageously and in depth. Control of the fords of the Brandywine would be the key to his position and although a possible flank attack was discussed, it's likelihood was discounted on the strength of local information.
Thus the stage was set. Howe, pursuing a strategy of posts, sought European style victory in a sudden taking of the enemy capital. Washington wrote, "Should they push their designs against Philadelphia...they will put the contest on the event of a single battle. If they are overthrown...the war is at an end. One bold stroke will free the land."
Guilford/Eutaw Springs:
Major General Nathanael Greene's southern campaign had been astonishing. He took command of the Grand Army of the Southern Department in December 1780. Over the course fo the next ten months he marched his ragged, shoeless, and hungry men 2,600 miles crossing countless streams and rivers in the process. They fought five major battles: Cowpens, Guilford Courthouse, Hobkirk's Hill, Nintey-Six, and Eutaw Springs and only "won" once. Victory, defined by the standards of the 18th century, belonged to the British who won the set piece battles. But tactical achievement could not offset Greene's eventual strategic victory. The South, that had been so handily overrun by the British in the Spring and Summer of 1780, was at last free.
Guilford, Vol. III in GMT's American Revolution Series depicts two of Nathanael Greene's most famous engagements: Guilford Courthouse and Eutaw Springs. After weeks of maneuver, American and British forces were clashing at the crossroads hamlet of Guilford Courthouse, North Carolina on 15 March 1781. British General Cornwallis' veteran army was dwindling daily due to lack of supply. He was gambling on local Tory support and sought a battle of annihilation to crush the Americans before his own forces withered away.
Greene also sought a major battle. He now had over 4,000 troops, twice as many as the British. His army was as strong as it was ever likely to be, but he was painfully aware that the nearly 3,000 militia in his ranks could not be relied on to stay. Each commander hoped to deliver the coup de grace.
The Battle of Eutaw Springs was fought on 8 September 1781 forty miles from the British base at Charleston. It was noteworthy for a number of reasons: the parity of the opposing forces, the fierce quality of the fighting, and the fact that American militia and partisans under Francis Marion (
The Swamp Fox
) fought in a set-piece fashion and held their own. Like Guilford, the battle was considered a British victory, but the British withdrew to Charleston never to emerge again. They were right back where they hadd.
Mounted Mapboards for each game

Updated Victory Conditions for each game

An Updated Looting Table for Eutaw Springs

Replacement counters for each game.