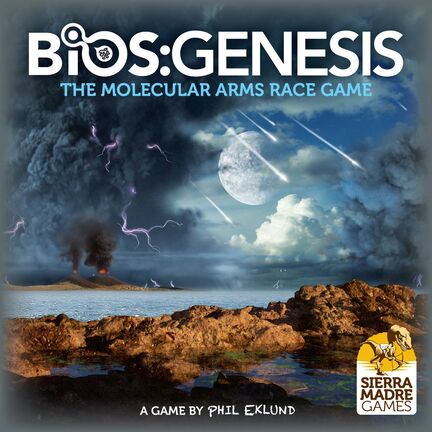 Bios Genesis 2nd Edition
310,00 kr.
Varenummer: SMG-BG
Du starter som en ingrediens i den oprindelige suppe og prøver at skabe liv.
Mind blowing spil, et stort spil i en lille æske.


Antal spillere 1 - 4 / Spilletid 60 - 120 Min. / Alder 12+ / Sværhedsgrad: Heavy / År. 2016
Andre vare fra Sierra Madre Games / ION

Priser er inkl. moms
Beskrivelse
Indeholder:
English:
Dette er det første spil i Bios Trilogilen, efterfulgt af Bios: Megafauna 2 og Bios: Origins 2.

Bios-spillene er forbundet, men kan spilles uafhængigt af hinanden.
Sammenlignet med 1. udgave, er der nu komponenter til 4 i stedet for 3 organismer for hver spiller, 100 nye kunstværker, 68 sideregler / videnskabelig baggrund og en foldebar spiller hjælp.
60 Cards illustrated by Karim Chakroun with 100 extra commissioned artworks

16 oversized placards, for bacteria and refugia
48 disks representing catalysts, enzymes, and antioxidants
64 wooden cubes for manna & chromosomes
16 wooden domes for bionts (4 more than 1st edition)
12 six-sided dice, used for autocatalytic and Darwin rolls
Rules and historical background, 68 pages
Folding player aid
Box (5" X 5" X 1.75"
You start as an ingredient in the primordial soup, and try to create life. Solitaire, competitive, and cooperative play options.