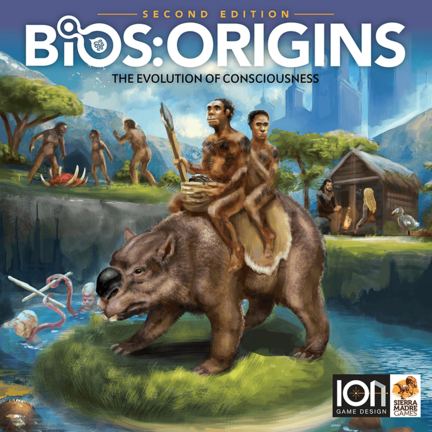 Bios: Origins (Second Edition)
609,00 kr.
Varenummer: SMG-BIOO
Bios: Origins er den tredje del af Bios Trilogy. Handlingen starter meget tidligere end de fleste civilisationsspil: 200.000 år siden eller endnu tidligere. En til fire spillere repræsenterer de menneskelige underarter, der eksisterede på det tidspunkt: Sapiens, Neanderthal, Denisovans og Hobbits.

Antal spiller: 1 - 4 / Spilletid: 90 - 120 min. / Alder: 12+ / Sværhedsgrad: Heavy / År 2019
Andre vare fra Sierra Madre Games / ION

Priser er inkl. moms
Tag dem med på et eventyr for at forstørre din hjerne, tilegne dig sprog, opdage nye verdener, tæmme mærkelige dyr (såsom ridning af krigskænguruer eller mammutter), opdag religionens vidundere og rædsler, dyk efter perler, udfordre guderne, lav slaver af dine rivaler, og måske gå ind i oplysningen tid.
Selvom erobringskrig og religion er mulige, vil de fleste af kampene være interne.
Du har kun begrænset kontrol over din herskende klasse, og hvis dine præster har kontrol og udfører et dårligt stykke arbejde, bliver de dræbt og tilintetgjort af købmænd eller krigsherrer.
Vind ved at specialisere dig som kulturel, politisk eller industriel civilisation. Dette betyder, i modsætning til de fleste civilisationsspil, at en kultfigur på en bjergtop i New Zealand kan vinde over en kejser, der har erobret kloden med sine hære.
Spillet kan integreres med Bios: Genesis og Bios: Megafauna, så du kan starte som en række intelligente men ikke helt sproglige marine eller jordiske skabninger.
2 x bræt og 26 hex-chits er inkluderet for at rumme variable landformer og væsner på en beboelig jordklode, Mars eller Venus.
Solo og kooperative varianter er inkluderet.

NOTE! fejl i regelbog. Der er "kun" 205 kort. Der er "kun" 119 Idea Cards.
Manual TRYK HER
Represent an intelligent species developing technologies, economics, politics, and consciousness in Bios:Origins Second Edition. This is the 3rd and final game of the Bios trilogy.
From the Designer:
We have reworked the game Origins from ground up, keeping its bottom-up take on civilization games, but with new features to integrate it with the arc from the predecessor games Bios:Genesis and Bios:Megafauna (second edition). The old Origins had dice, these are gone, but the classic map is retained.
Bios:Origins include 2 maps. One traditional Earth map and one more empty ocean map. New is a hexgrid, found on the back of the map board, for building custom maps. This can be used to to create custom maps using the punch out hexes included in Bios:Origins or recreate the cratons from an end state of Bios:Megafauna (second edition) if you are playing a trilogy campaign game.
The empty ocean map can be used in your Bios:Megafauna game too if you want, while playing that.
The cards have been sorted in categories of Culture, Politics, and Industry, and a Market has been added.
Designers: Phil Eklund & Jon Manker.
NOTE! Misprint in rulebook. Only in total 205 cards. There are only 119 Idea Cards.