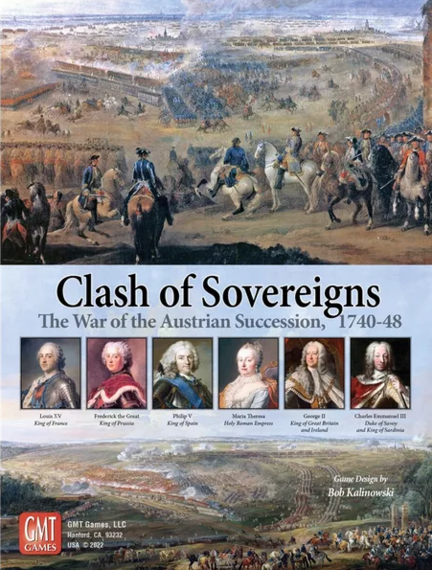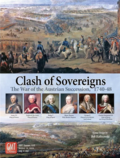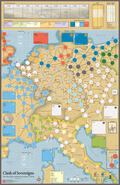 Clash of Sovereigns
580,00 kr.
Varenummer: GMT2222
"Clash of Sovereigns" (COS), GMT's 2-4 player card-driven game of the War of the Austrian Succession, has been 9 years in the making. It is a free-wheeling, faster-playing, stream-lined "nephew" of the widely-regarded Clash of Monarchs (COM).
Antal spiller: 2 - 4 / Spilletid: 180 - 720 Min. / Alder: 12+ / Sværhedsgrad: Medium-Heavy / Udgivet 2023
Andre vare fra GMT Games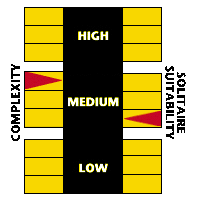 Priser er inkl. moms
December 1740: Young King Frederick II leads the army of upstart Prussia in a surprise invasion of Austrian Silesia.
He hopes for an easy conquest of the rich province at a time when the Austrian Empire appears vulnerable following the death of Charles VI, King of Austria and Holy Roman Emperor.
But despite internal opposition to the 'Pragmatic Sanction' that allowed a woman to inherit the throne, Austria's new Queen, Maria Theresa, is cowed neither by Frederick, nor by France's scheme to place a Bavarian puppet candidate on the throne of the Holy Roman Empire, nor by Spanish designs on Austria's holdings in Italy.
Amid these conflicting dynastic ambitions, Frederick's local territorial coup proves to be only the opening act in a major European war that none of the great powers had anticipated - but all wished to profit from. It would ultimately span eight years and half the globe.
COS features asymmetrical armies with distinctive national characteristics and capabilities that have banded together in alliances that often struggle with conflicting goals.
Both the Bourbons and Pragmatics will benefit – or suffer from – interactions among the various nations in their respective alliances.
COS's replay value is high because the multiplicity of belligerents and theaters of operation ensure that the game will never play the same way twice.
Vienna may fall to the Prussians or French; Paris and Naples may see Austrian white uniforms in their streets; and London may be beset by Bonnie Prince Charlie – or invading French troops.
Will the French get Bavarian Charles VII onto the throne of the Holy Roman Empire?
Will Marshal Traun and Austrian Croats take it back?
Will Louis XV and George II clash in Flanders?
And will anyone be able to stop De Saxe? -- Find out!
For regler: TRYK HER