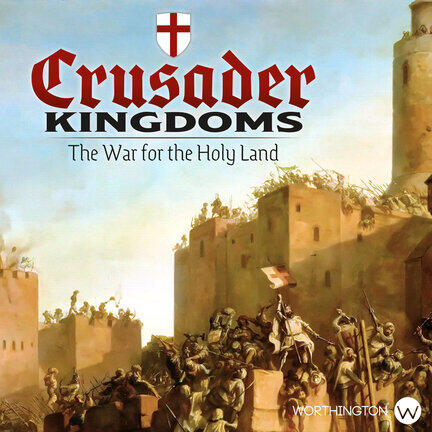 Crusader Kingdoms
629,00 kr.
Varenummer: WPUB056
Crusader Kingdoms er et spil som forgår i korstogets æra, hvor hver spiller kontrollerer et af Outremers (kongeriget Jerusalem, Fyrstedømmet Antiokia og Edessa amt) største kristne eller muslimske kongeriger med det mål at udvide det gennem intriger og erobring.
Antal spiller: 1 - 4 / Spilletid: 20 - 90 min. / Alder: 14+ / Sværhedsgrad: Light / Udgivet 2020
Andre vare fra Worthington Publishing

Priser er inkl. moms
Beskrivelse
Indeholder:
English:
Efter den mirakuløse succes med det 1. korstog i 1097 etableres tre kristne kongeriger i Outremer; kongeriget Jerusalem, Fyrstedømmet Antiokia og Edessa amt.
Men i 1144 lider korsfarerne deres første tilbageslag med Edessas fald i hænderne på Zengi (herskeren i Mosul og Aleppo), hvilket provokerer til det 2. korstog.
Crusader Kingdoms er et management spil i denne æra, hvor op til 4 spillere kontrollerer de vigtigste kristne eller muslimske kongeriger Outremer.
Under hver tur modtager spillerne et variabelt antal kort, der kan være tropper, begivenheder eller responskort og ved at spille i alternative runder bruger de dem til at forsøge at udvide deres rige.
Vinderen er spilleren, der kontrollerer flest områder i slutningen af spillet.
Spillet inkluderer en solo-boot og en kooperativ variant for to spillere.
1 - Game box with beautiful Crusader art
1 - Double-sided hard mounted game board (one side for the 1st and 3rd Crusade, one side for the 2nd and Saladin)
50+ wooden castle pieces in 4 colors
50+ wooden printed garrison pieces in 4 colors
1 - deck of Muslim cards with period artwork
1 - deck of Crusader cards with period artwork
2 - Rule Books (duplicate)
5 - Custom Dice
After the miraculous success of the 1st Crusade in 1097, three Christian kingdoms are established in Outremer; the Kingdom of Jerusalem, the Principality of Antioch and the County of Edessa. But in 1144 the Crusaders suffer their first setback with the fall of Edessa at the hands of Zengi (the ruler of Mosul and Aleppo), which provokes the 2nd Crusade.
Crusader Kingdoms is a hand management game set in this era, in which up to 4 players control the main Christian or Muslim kingdoms of Outremer. Each turn players receive a variable number of cards that can be troops, events or response cards, and playing in alternate rounds they use them to try to expand their realm. The winner is the player controlling more areas at the end of the game.
The game includes a solo engine, and a two-players cooperative variant and play anywhere in around 1 hour (the solo version is even shorter).
Victory is determined by area control.