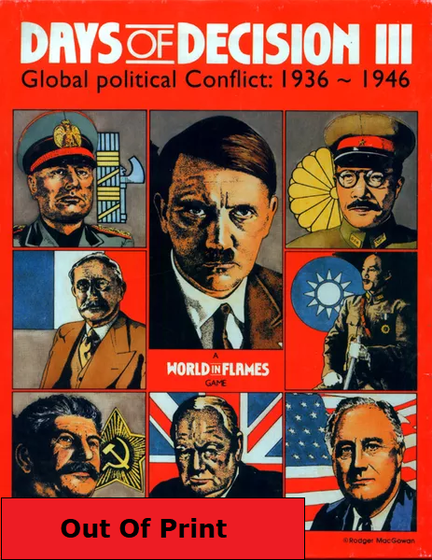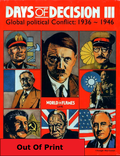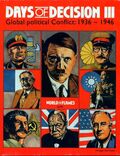 Days of Decision III
635,00 kr.
Varenummer: ASDG0031
Days of Decision III er et komplet brætspil af global politik fra 1936 ~ 1946.
Det kan spilles enkeltstående eller med World in Flames og er blevet fuldstændig opgraderet til at være problemfrit kompatibel med World in Flames og alle dens sæt.
Det inkluderer et nyt kort, statusvisning, regler og diagrammer.
Antal spiller: 2 - 8 / Spilletid: 360 min. / Alder: 14+ / Level: Heavy / Udgivet 2004
Andre vare fra Australian Design Group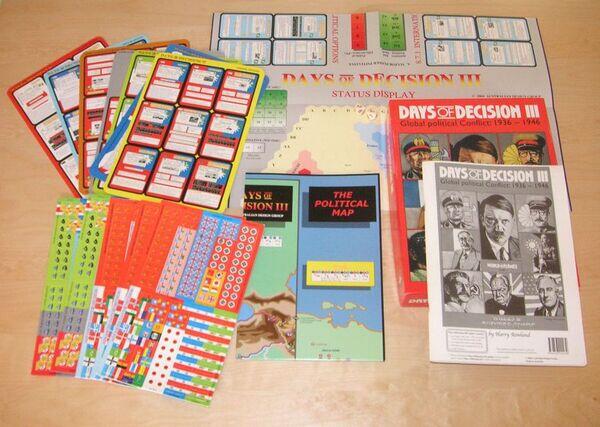 Varen kan desværre ikke købes, da der ikke er flere på lager
Dette er ikke enden.
Dette er ikke begyndelsen på enden.
Det er begyndelsen på begyndelsen.
Nu er det øjeblik hvor mørket slipper hendes kløer løs.
Kan du tæmme tigeren?
Download regler + div filer: TRYK HER
WiFCE-DoD III Combined Campaign Playthrough 1936-1946 #1 - Intro

one large (840 mm x 594 mm) full-colour game-board, "The Political Map";
one large full-colour "Status Display", showing the current political status of minor countries. It also contains 20 International Political options and a number of charts and tracks;
8 full-colour major power option cards;
5 x 200 counter sheets (2 x CS13 & 3 x CS17);
a rules booklet (including set ups and the major power, war and treaty charts); and
2 ten-sided dice; &
box.