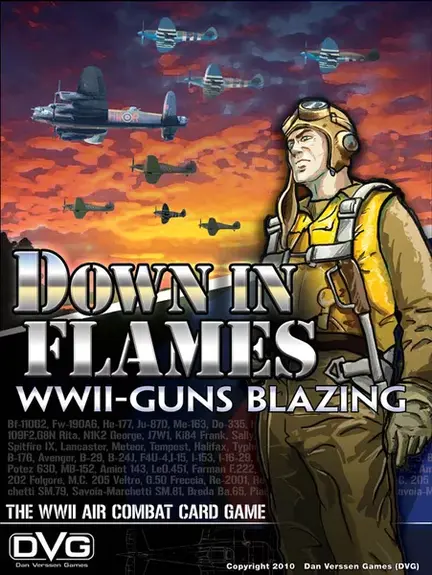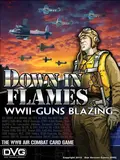 Down In Flames . Guns Blazing
489,00 kr.
Varenummer: DV1-011
Down In Flames placerer hver spiller i cockpittet for en leder og Wingman når de deltager i kamp mod andre fly. Ved at spille kort får du fordelagtige positioner på dine mål, fyrer dine kanoner og sender dem ned i flammer!

Antal spiller: 2 - 6 / Spilletid: 30 min. / Alder: 12+ / Sværhedsgrad: Medium/Light / Udgivet 2010
Andre vare fra Dan Verssen Games



Priser er inkl. moms
Guns Blazing is the 2nd game in the Down In Flames series. This stand-alone game adds 63 more types of aircraft, new campaigns, and action cards featuring the new aircraft!
Down In Flames places each player in the cockpit of a Leader and Wingman as they enter combat against other aircraft. By playing cards, you gain advantageous positions on your targets, fire your guns, and send them down in flames!
The game is based on a unique action-reaction card mechanic. Each card can be countered by specific other cards. At the bottom of every card is the list of cards it is allowed to cancel. This makes for exciting card play back and forth between players...
Player #1: "I Play an In My Sights for 3 Hits. If you don't stop it, you're going down." Player #2: "I counter with a Barrel Roll." Player #1: "I react with a Yo-Yo." Player #2: "You got me."
Each aircraft is accurately simulated with several ratings including: Performance (the maximum cards you can hold), Horsepower (the maximum cards you can draw each turn), Bursts (how many times you can fire), Damage (how much damage your attacks inflict), and Airframe (how much damage your aircraft can sustain).
The air combat is simulated using a Positioning system that allows aircraft to be Advantaged, Tailing, Disadvantaged, or Tailed in relation to other aircraft. An aircraft's position determines if it can attack, and how many bonus Bursts it receives if it is Advantaged or Tailing.
The game uses a simple Altitude system to add this vital aspect of air combat. Aircraft get to draw cards when diving, and must discard cards when climbing.
The game also includes Light, Medium, and Heavy Bombers that are used in the historical campaign games.
Components
110 Full color Action Cards
126 Full Color Aircraft Cards
Full Color 24 Page Rulebook
Full Color Counter Sheet (176 - 5/8" counters)
6 Full Color Campaigns
Full Color Player Log Sheet
Scheduled Aircraft Cards:
GERMANY
Bf-110G2, Fw-190A6, He-177, Ju-87D, Me-163, Do-335, He-162, Henchel, Bf-109G10, Bf-109F2
JAPAN
G8N Rita, N1K2 George, J7W1, Ki84 Frank, Sally, A6M8 Zeke, A6M6 Zeke
UK
Buffalo, Spitfire IX, Lancaster, Meteor, Tempest, Halifax, Typhoon, Beaufighter
USA
P-38F, P-47B, B-25, B-17G, Avenger, B-29, B-24J, F4U-4
SOVIET
I-15, I-153, I-16-29, LaGG-3, La-5, Yak-3
FRENCH
M.S. 406, D.520, Potez 630, MB-152, Amiot 143, LeO.451, Farman F.222
ITALIAN
C.R. 42 Falco, M.C. 200 Saetta, M.C. 202 Folgore, M.C. 205 Veltro, G.50 Freccia, Re-2001, Re-2005, Breda Ba.88, Savoia-Marchetti SM.79, Savoia-Marchetti SM.81, Breda Ba.65, Piaggio P.108
Scheduled Campaigns
Italian
French
Daylight 1945
Pacific 1944
Soviet
North Africa
The aircraft and campaign list is still a work in progress. In the end, there will be 63 different types of aircraft totaling 126 cards, and 6 campaigns.