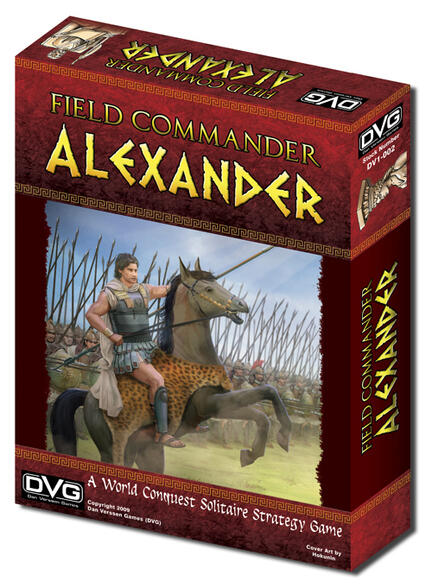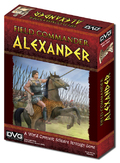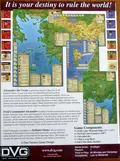 Field Commander Alexander
500,00 kr.
Varenummer: DV1-002
Du påtager dig rollen som Alexander den store i hans søgen efter at udvide det makedonske imperium og opnå personlig helte status.

Antal Spiller: 1 / Spilletid: 90 minutter / Alder: 12+ / Level: Medium/light / Udgivet 2009.
Andre vare fra Dan Verssen Games

Priser er inkl. moms
Beskrivelse
Indeholder:
English
I spillet, placeres du i Alexanders fodspor, når han bliver voksen i 338 f.Kr., lige før slaget ved Chaeronea.
Fra dette tidspunkt beslutter du, hvor du skal rejse, hvornår du skal kæmpe, hvornår du skal forhandle, og hvornår du skal søge guddommelige profetier for at styre dine handlinger.
Du får soldater og rådgivere, der hjælper dig med at navigere i farerne ved slagmarken og forhandlingsbordet. Disse inkluderer infanteri, bueskytter, phalanx, kavaleri, rådgivere, lærde, kurtisaner og spioner.
Du vil på en smart måde kombinere disse ressourcer med dine egne planer for at opnå sejr og storhed. Og hvis du gør det godt, vil du blive husket som en af ​​de største ledere nogensinde der har vandret på jorden.
Alexander's liv er opdelt i flere kampagner, der hver spænder over flere år.
Under hver kampagne får du en målsætning, men hvordan du opnår disse, er op til dig.Går du i kamp? Eller forhandler du? Hvor stærk er du? Hvor stærke er de? Hvad kan du få?
Dette er alle beslutninger du skal vælge og vælge godt, hvis du skal leve op til de udødelige standarder man forventer af dig.
Kampagnerne kan enten spilles enkeltvis eller linkes til et spil gennem hele Alexanders liv.
Når der spilles som et fortløbende liv, påvirker resultatet af en kampagne din startsituation i den næste kampagne.
Hvordan det går er op helt op til dig - Hele verdenen ligger for dine fødder!
For manual: TRYK HER
Components:

176 Full color counters (5/8")
4 Full color Campaign Mounted Map Boards (11" x 17")
Rulebook (Full Color)
Player Log Sheet (Full Color)
1 6-sided die
Scheduled Campaigns:
338bc to 334bc - Highlight: Chaeronea and Granicus
333bc to 332bc - Highlight: Issus
332bc - Highlight: Siege of Tyre
331bc to 323bc - Highlights: Gaugamela and Hydaspes
The perfect follow-up game if you liked Field Commander Rommel!
When we started designing the game, our goal was to represent the battles of Alexander the Great, but the more we learned about him, the more we realized our opportunity to explore not only his battlefield exploits, but also the other aspects of his life. True, Alexander the Great was highly skilled in warfare, but he was also a skilled negotiator and at his core was the constant drive to connect with the gods. It was rumored that his father was Zeus, and he spent much of his life seeking the favor and advice of the Greek gods.
When playing the game, you are placed in Alexander's footsteps when he comes of age in 338bc, just before the battle of Chaeronea. From that point on, you get to decide where to travel, when to battle, when to negotiate, and when to seek out divine prophesies to guide your actions.
You are supplied with soldiers and advisors to help you navigate the dangers of the battlefield and the negotiating table. These include Infantry, Archers, Phalanxes, Cavalry, Advisors, Scholars, Courtisans, and Spies. You will craftily combine these resources with your own plans to achieve victory, and glorification. And if you do well, you will be remembered as one of the greatest leaders ever to walk the earth.
The life of Alexander is divided into several campaigns, each spanning several years. During each campaign, you are given goals, but how you achieve those goals is up to you. Do you enter into battle? Or negotiate? How strong are you? How strong are they? What can you gain? These are all decisions you get to make, and must make well, if you are to live up to the immortal standards set before you.
The campaigns can either be played stand alone, or linked to play through his entire life. When played as one on-going life, the outcome of one campaign affects your starting situation in the next campaign.
How you proceed is up to you - The Entire World is Yours for the Taking!