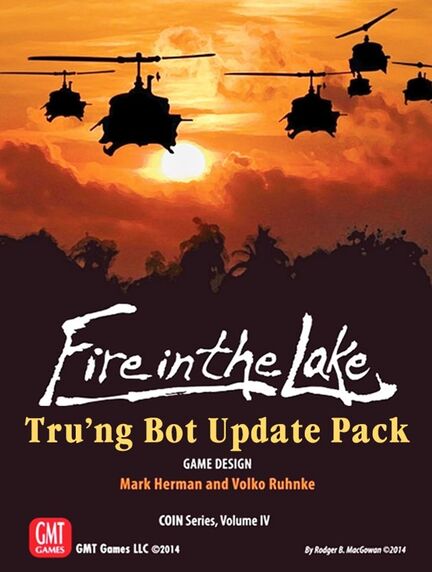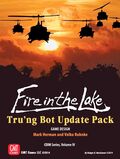 Fire in the Lake Tru'ng Bot Update Pack
220,00 kr.
Varenummer: GMT2016
Tru'ng er navnet på et nyt bot-system til Fire in the Lake.
Det følger i fodsporene på det innovative kortbaserede solo-system, der først blev udviklet til Gandhi og giver fans af Fire in the Lake flere muligheder for at få dette fantastiske spil til bordet.
Antal spiller: 1 / Er en udvidelse til spillet Fire In The Lake for solo spil.
Andre vare fra GMT Games

Priser er inkl. moms
Tru'ng is quick to use and easy to implement, but is sophisticated enough to play the full Fire in the Lake game.
When selecting Operations and Special Activities, cards are drawn from the Tru'ng deck—there are six cards for each Fire in the Lake faction. Each card examines the current state of the game and selects the appropriate action for the active faction.
A single, faction-specific table then determines where that action will occur.
The same table is used to select spaces for Operations, Special Activities, and Events, minimizing the need to flip between multiple player aids.
Playing against Tru'ng feels like playing against a human opponent.
It is unpredictable yet responsive to strategic needs, it goes after its enemies while keeping an eye on its ally, and makes moves up to now limited to human players—like choosing a Limited Operation to block an opponent's Event.
Tru'ng can take the place of a human player for any Fire in the Lake faction, can be used with every Fire in the Lake scenario, and can be used in any combination of player and non-player setups.
Note: The Tru'ng bot works for Fire in the Lake only, not for the Fall of Saigon expansion. The bot in Fall of Saigon has to deal with the additions in that expansion, so it only works for Fall of Saigon.
Note: The Fire in the Lake Tru'ng Bot Update Pack is compatible with the First and Second Edition of Fire in the Lake as well as the Second Edition Upgrade Kit. This is a Solitaire system for Fire in the Lake only and is not the same as the Solitaire System included in Fall of Saigon, which is for Fall of Saigon scenarios only. Tru'ng can be combined with Fall of Saigon to enable players to play Solitaire across the entire scope of the Vietnam war.
24 double sided operations cards
1 11x17" player aid
1 8.5"x11" reference card
1 Rulebook