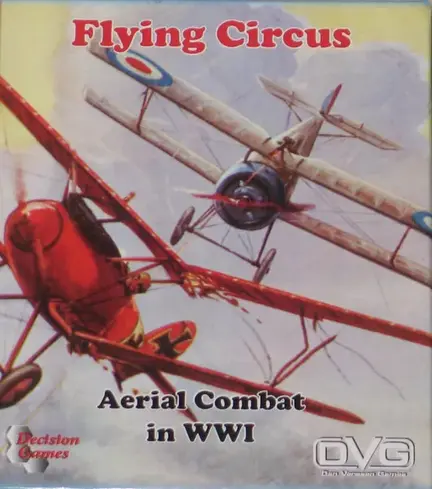 Flying Circus: Aerial Combat in WWI
259,00 kr.
Varenummer: DCG1509
Flying Circus: Aerial Combat i WWI skildrer det sjove og smagsfulde af luftluftkampe fra Første Verdenskrig.
Du flyver det farverige og adrætte fly fra WWI, mens du skriver historie i verdens første brug af fly i en militær rolle.
Antal spiller: 2 / Spilletid: 30 Min. / Alder: 10+ / Sværhedsgrad: Medium-Light / Udgivet 2008
Andre vare fra Decisions Games

Priser er inkl. moms
This is the basic game.
You have everything you need to play single aircraft duels to multi-aircraft dogfights.
Each aircraft has its own unique characteristics reflected in its ratings and special abilities.
The basic game rules cover all the maneuvers that made WWI aerial combat: barrel rolls, stall turns, Immelmans, vertical rolls and Candelles.
Outmaneuver your opponent to line up your guns and watch his planes go down in flames!
Gamers who have played the Down in Flames game series will find many similarities in game play, however, previous experience is not necessary.
The basic game rules can be read in less than 20 minutes and you can play your first game immediately.