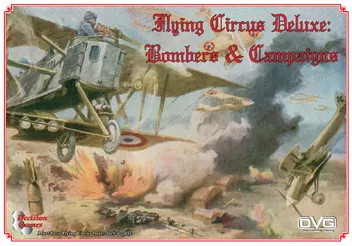 Flying Circus Deluxe: Bombers and Campaigns
369,00 kr.
Varenummer: DCG1510
Flying Circus: Bombers and Campaigns er en udvidelse til Flying Circus: Aerial Combat i WWI, som som kræves for at kunne spilles.
Antal spiller: 2 / Spilletid: 60 Min. / Alder: 10+ / Sværhedsgrad: Medium-Light / Udgivet: 2008
Andre vare fra Decisions Games

Priser er inkl. moms
You will need the basic game card deck to play this expanded version.
Then you will have everything you need to play single aircraft duels and team play with multiple flights in swirling dogfights.
This deluxe game adds rules for altitude, pilot abilities—including a deck of 25 pilot cards for historical campaigns—bombers, rear gunners, scouts and other optional rules.
This expansion also includes cards and rules for playing multi-mission games of famous WWI campaigns such as Cambrai and Meuse-Argonne, along with a "Campaign Analysis" article detailing the development of the aircraft, their tactics and strategy.
110 Deluxe deck cards (bombers, scouts, plus more fighters & action cards)
Deluxe Game rules booklet
6 Campaign Cards
Pilot Log
36 Pilot & altitude cards
Dice marker
2 inch box