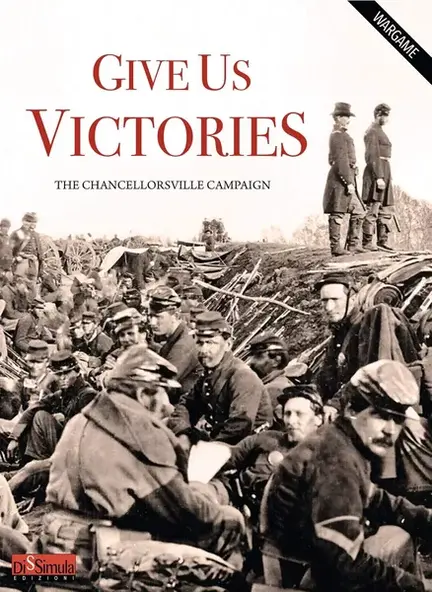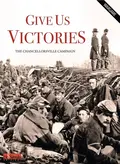 Give Us Victories: The Chancellorsville Campaign, Virginia, 1863
755,00 kr.
Varenummer: DISS-GUV
GIVE US VICTORIES er et krigsspil om Chancellorsville-kampagnen, udkæmpet under den amerikanske borgerkrig, da 130.000 soldater fra Union Northern Army stødte sammen med den meget mindre Northern Virginia Army, ledet af general Robert E. Lee.
Antal spiller: 1 - 2 / Spilletid: 120 - 480 min. / Alder: 10+ / Level: Medium / Udg. 2022
Priser er inkl. moms
Beskrivelse
Indeholder:
English:
General Joseph Hooker, nyudnævnt af præsident Lincoln, havde kommandoen over Army of the Potomac. Lincolns engagement brev sluttede med ordene "Giv os sejre" deraf titlen.
Spillet begynder den 30. april 1863, hvor Army of the Potomac nu hinsides Rappahannock og Rapidan marcherer mod Chancellorsville.
Spillet er af middel kompleksitet og har enkle og intuitive regler.
Kommando systemet er spillets hjerte: du tjekker blot, hvor mange point du har i en tur, vælger de formationer, der skal aktiveres (afdelinger for de konfødererede og korps for Unionen), og lægger dem i en kop.
Din modstander gør det samme; så bland og træk...!
Formationer kan bevæge sig, angribe, forskanse, bombardere og så videre.
Særlige regler dækker brugen af ​​træfninger, skyttegravsbygning og brobygning.
Spillere udfører handlinger på skift med et tilfældigt aktiveringssystem, der altid er engagerende og anderledes, hvilket skaber kaos og usikkerhed i en realistisk og anspændt simulering.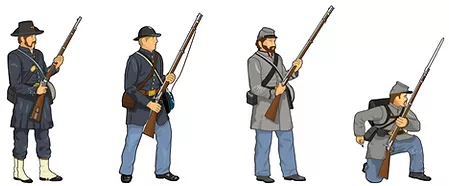 Fire spil inkluderet:
Hoved spil - 2 standardkort, 2 counters (figur og Nato-stil, så spillerne kan vælge), medium sværhedsgrad, 6-8 timer til kampagnen, 4 scenarier, 2 variationer.
Strategisk spil - 1 A3-kort, 1 sæt counters, 1 times gameplay, lav sværhedsgrad.
Solospil - AI simulerer Army of the Potomac, 1 sæt counters; bruger de samme kort i hoved spillet.
Skirmish spil - sæt af papirlegetøjssoldater, landskabselementer og counters; lav sværhedsgrad, spilletid 30 minutter.
For regler: TRYK HER
Unboxing:
Play:
IN THE BOX
2 standard maps

1 A3 map (strategic game)
1 12x10 (cm) map (variant for main game)
4 counters set, 17 mm side
Set up charts
Rules aid, tables, solo game display, solo game booklet
Paper soldiers (cardboard)
Rules booklet (Main game, scenarios, strategic, solo system, skirmish)
English, Italian
"GIVE US VICTORIES" is a wargame about the Chancellorsville campaign, fought during the American Civil War, when 130,000 soldiers of the Union Northern Army clashed with the much smaller Northern Virginia Army, led by General Robert E. Lee.
General Joseph Hooker, newly appointed by President Lincoln, was in command of the Army of the Potomac. Lincoln's engagement letter ended with the words "Give Us Victories".
The game begins on April 30, 1863, with the Army of the Potomac now beyond the Rappahannock and Rapidan, marching toward Chancellorsville. The game is of intermediate complexity and has simple and intuitive rules. The command system is the heart of the game: you simply check how many points you have in a turn, choose the formations to activate (divisions for the Confederates and corps for the Union), and put them in a cup. Your opponent does the same; then mix and pull…! Formations may move, attack, entrench, bombard and so on. Special rules cover the use of skirmishers, trench building, and bridge building. Players perform actions alternately with a random activation system always engaging and different, creating chaos and uncertainty, in a realistic and tense simulation.
Four games included
Main game - 2 standard maps, 2 counter sets (figure and Nato style, so players can choose), medium difficulty, 6-8 hours for the campaign, 4 scenarios, 2 variations.
Strategic game - 1 A3 map, 1 counters set, 1 hour of gameplay, low difficulty.
Solo game - AI simulates Army of the Potomac, 1 counters set; uses the same maps of the main game.
Skirmish game - set of paper toy soldiers, landscape elements and counters; low difficulty, playing time 30 minutes.
In the box:
2 standard maps (86x54 cm)
1 A3 map (strategic game)
1 12x10 (cm) map (variant for main game)
4 counters set, 17 mm side
Set up charts
Rules aid, tables, solo game display, solo game booklet
Paper soldiers (cardboard)
Rules booklet (Main game, scenarios, strategic, solo system, skirmish)