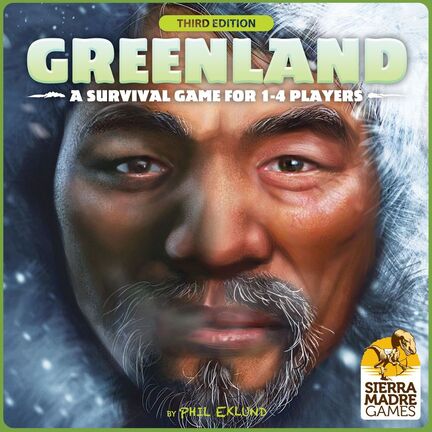 Greenland 3rd Edition
360,00 kr.
Varenummer: SMG33a
Forestil dig, at du er en stamme som lever på en ø der langsomt fryser til. Forsyningsskibene holder op med at komme, og det eneste middel til at overleve er ægteskab for at opdage de andre kulturs overlevelseshemmeligheder: Tunit, vikinger, inuitter eller sø samer.
Antal spiller: 1 - 4 / Spilletid: 60 - 120 min. / Alder: 12+ / Sværhedsgrad: Middel / År. 2018
Dansk Manual kan downloades se længer nede før video
Andre vare fra Sierra Madre Games / ION

Varen kan desværre ikke købes, da der ikke er flere på lager
Beskrivelse
Indeholder:
English:
I Grønland spiller du gennem en vigtig periode af menneskets historie. Du spiller som et af de folk, der forsøgte at kolonisere Grønland i middelalderen. Denne version af Grønland inkluderer også den mindre kendte sø samiske udvidelsespakke.
Sammenlignet med 2. udgave introducerer en 4. spiller (Sea Sami), nye husdyr og døtre, opgraderet kunst, nye legemidler.
Manual Dansk TRYK HER
Video indeholder både Neanderthal/Greenland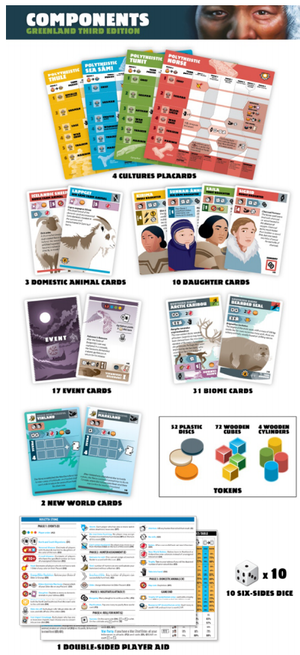 63 kort
4 ældre tavler
72 brugerdefinerede meepler
4 store meepler
52 diske til energi
Elfenben og jern
10 terninger.
Designet af Phil Eklund
Imagine you are a tribe on an island slowly freezing over. The supply ships stop coming, and the only means to survival is intermarriage to discover the survival secrets of the other cultures: Tunit, Vikings, Inuit, Sea Sami.
In Greenland you get to play through a momentous period of human history. You play as one of the peoples who attempted to colonize Greenland during the Middle Ages. This version of Greenland also includes the little-known Sea Sami expansion pack.
Compared with the 2nd edition, introduces a 4th player (Sea Sami), custom meeples for each tribe, new domestic animals and daughters, upgraded art, new play aids. Contains 63 cards, 4 elder boards, 72 custom meeples, 4 large meeples, 52 disks for energy, ivory, and iron, 10 dice.
Designed by Phil Eklund