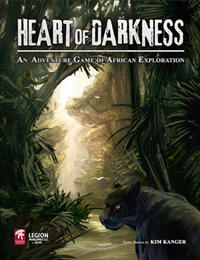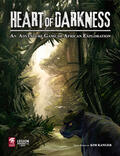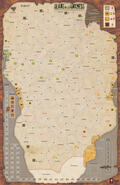 Heart Of Darkness: Mid 19th Century Exploration of Africa
599,00 kr.
Varenummer: LWG2101
Dette er et spil om eventyr og udforskning, hvor du sammen med op til fire andre spillere begiver dig ind i det dybeste af Afrika. Tidsperioden er midten af det 19. århundrede, og du starter din ekspedition ved en af de seks indgangshavne.
Antal spiller: 1 - 5 / Spilletid: 240 - 420 minutter / Alder: 10+ / Sværhedsgrad: Medium / udgivet 2021

Andre vare fra Legion Wargames


Priser er inkl. moms
Beskrivelse
Indeholder:
English:
Din rejse finansieres af en større avis og udgiver derhjemme og de forventer, at du bringer fantastiske historier med hjem.
Din ekspedition består af dig og væbnede askaris, som er lokale afrikanske soldater og bærere som transportere mad og gaver.
Der vil lejlighedsvis være lokale guider og geder som holder dig med selskab.
Din opgave er at gå ind i det ukendte.
Du vil interagere med mennesker som du møder, mens du søger efter de myter og legender der siges at eksistere et eller andet sted i Afrika.
At gå rundt i landet blandt mennesker der måske ikke sætter pris på din tilstedeværelse, at møde sult og rovdyr samt afsløre hvad der måske burde forblive hemmeligt da det er farligt.
Ikke kun står din ekspeditions liv på spil, men også din fornuft.
Men det er jo det man risikere, ved at gå ind i mørkets hjerte.
For regler: TRYK HER
For living rules: TRYK HER
Unboxing:
Fra Producenten
1 Map 22" x 34"
384 each - .6" square counters
120 each - .6" round counters
1 Rulebook 24 pages full color
Player Aids - 8 1/2" x 11" :
5 - individual expedition sheets
5 - player reference sheets
This is a game of adventure and exploration where you, together with up to four other players, venture into deepest Africa. The time period is mid-19th century and you start your expedition at one of the six Ports of Entry.
Your journey is financed by a major newspaper and publisher back home, and they expect you to bring home fantastic stories that they can publish. Your expedition consists of you and armed askaris, which are local African soldiers, and porters that carry food and gifts. There will be occasional local guides and goats to keep you company.
The quest is to trek into what is unknown to you. You will interact with people that you meet, while searching for the myths and legends that are said to exist somewhere in Africa. To walk the land among people that might not appreciate your presence, to face hunger and predators, and to reveal what perhaps should remain hidden is dangerous. Not only are the lives of your expedition at stake, but your sanity as well.
But then again, as the old trader said, "are you not entering the Heart of Darkness?"