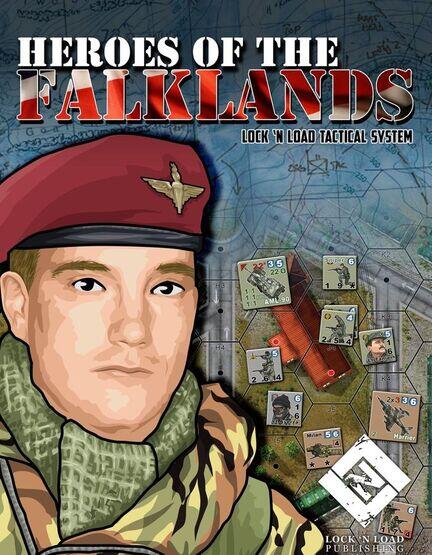 Lock n Load Tactical Heroes Of The Falklands
595,00 kr.
Varenummer: LLP313428
Heroes of the Falklands bringer dig til det vindblæste, stenagtige landskab på Falklandsøerne - eller Islas Malvinas, som de er kendt af argentinerne. Den korte, men brutale krig i 1982 begyndte efter at argentinerne uventet indtog Stanley, hovedstaden i Falklandsøerne og øen South Georgia som havde små garnisoner af britiske Royal Marines.

Antal spillere 2 / Spilletid 120 - 240 min. / Alder 12+ / Sværhedsgrad: Medium / Udgivet 2015
Andre vare fra Lock N Load Publishing

Priser er inkl. moms
Beskrivelse
Video:
English:
Den britiske regering reagerede ved at sende en stor flåde til det sydlige Atlanterhav for at genvinde de omstridte øer.
Her er den hårde terrænkamp ​​der fandt sted under krigen afbildet, som kun den fordybende Squad-level Lock 'n Load Tactical Series kan.
Heroes of the Falklands byder på de argentinske beslaglæggelser af Stanley og South Georgia samt alle de store kampe fra de britiske faldskærmsjægers dyre, men moralsk styrkende overfald på Darwin Hill og Goose Green, til det vovede kommandoangreb på Top Malo House, på tværs af Øst-falkland til de klimatiske kampe om bakkerne omkring Stanley.
2 "hvad hvis" scenarier skildrer argentinsk modstand mod den britiske landgang ved San Carlos og en sidste kamp om kontrollen med Stanley.
Ifør dig dit vinter-kampudstyr og tag et par nattesynsbriller med: øernes skæbne er på spil!
Krav: Intet andet produkt er påkrævet for at spille dette spil. Dette spil indeholder noget tidligere udgivet materiale fra A Ring of Hills.
Unboxing:
Heroes of the Falklands brings you to the windswept, rocky landscape of the Falkland Islands—or Islas Malvinas, as they are known by the Argentines. The brief but brutal war in 1982 began after the Argentines unexpectedly seized Stanley, the capital of the Falklands, and the island of South Georgia from small garrisons of British Royal Marines.
The British government responded by sending a large naval task force to the South Atlantic to reclaim the disputed islands. Here, the fierce ground combat that occurred during the war is depicted as only the immersive squad-level Lock 'n Load Tactical Series can.
Heroes of the Falklands feature the Argentine seizures of Stanley and South Georgia and all of the major land battles, from the British Paras' costly but morale-boosting assaults on Darwin Hill and Goose Green, to the daring commando raid on Top Malo House, across East Falkland to the climatic battles for the ring of hills around Stanley. Two what-if scenarios depict Argentine opposition to the British landing at San Carlos and a last-ditch fight for control of Stanley. Put on your cold-weather combat gear and bring along a pair of night-vision goggles: the fate of the islands is at stake!
Requirements: No other product is required to play this game. This game contains some previously released material from A Ring of Hills.