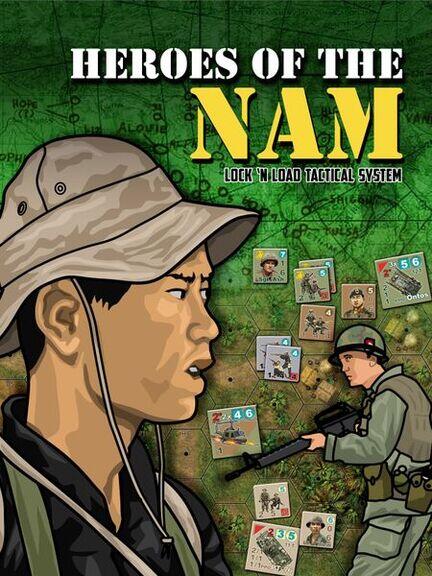 Lock n Load Tactical Heroes Of The Nam
780,00 kr.
Varenummer: LLP313435
It's time for another tour of duty. The award-winning Lock 'n Load Tactical Series. Heroes of the Nam. This squad-level game, with its fast-paced, intense impulse system, drops you right into the middle of furious jungle firefights and all-out, building-to-building assaults.
Antal Spillere 2 / Spilletid 60 - 240 min. / Alder 12+ / Sværhedsgrad: Medium / Udgivet 2015
Andre vare fra Lock N Load Publishing


Priser er inkl. moms
In Heroes of the Nam, forces from the Army of the Republic of Vietnam (ARVN), the United States Army and Marines, as well as their valiant Anzac allies from Australia and New Zealand, take on determined enemies from the North Vietnamese Army (NVA) and the unpredictable Viet Cong (VC). Powerfully armed Squads are at the vanguard of all actions, spurred on by daring Leaders and other unique individuals such as Snipers, Medics, Corpsmen, Chaplains, Advisors and, of course, Heroes, whose unique skills and sudden appearance can alter the tide of any battle. Helicopters, tanks, and armored-personnel carriers (APCs) also join the fight. Test your mettle in over 25 action-packed scenarios. Only the heroic will be victorious.

Requirements: No other product is required to play this game. This game contains some previously released material from Forgotten Heroes and Anzac Attack.
Unboxing: