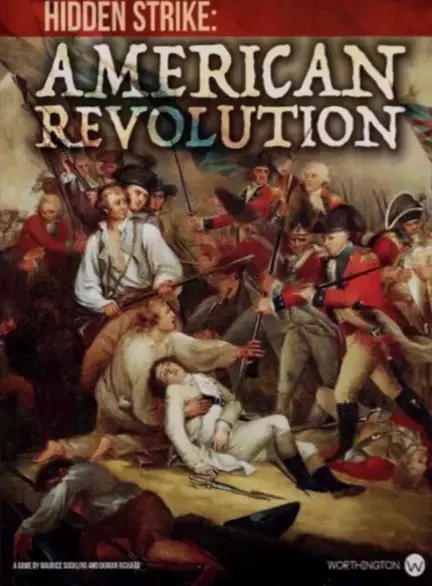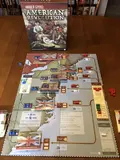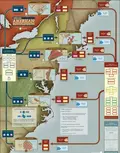 Hidden Strike: American Revolution
700,00 kr.
Varenummer: WPUB066
Hidden Strike: American Revolution genskaber kampen mellem de amerikanske kolonister og de britiske styrker under uafhængighedskrigen.
Antal spiller: 1 - 5 / Spille tid: 60 - 120 min. / Alder: 13+ / Sværhedsgrad: Medium/Light / Udgivet 2021
Andre vare fra Worthington Publishing

Priser er inkl. moms
Beskrivelse
Indholder:
English:
Hver side forsøger at vinde krigen ved at kontrollere et flertal af regioner.
Konfronteret med overvældende styrker vil kolonisterne have brug for strategi for at besejre den større britiske hær og flåde for at opnå deres uafhængighed.
Dette er et kortdrevet spil, hvor spillerne styrer med de kort de har på hånden, og de spiller normalt kun ét kort pr. tur som giver dem mulighed for at flytte tokens, der repræsenterer militærstyrker over hele brættet, ind i områder på vigtige tidspunkter.
Spillet kan spilles i fem forskellige tilstande:
Solitaire: For dem, der er modige nok til at kæmpe mod de britiske styrker på egen hånd, tilbyder denne tilstand en regulær og en hardcore mulighed. Denne tilstand er et godt udgangspunkt, hvis du prøver at lære spillet på egen hånd.
Versus: En voldsom head-to-head, hvor en spiller pitcher de britiske styrker mod den anden spillers amerikanske tropper.
Co-op mode: I denne cooperative mode deler alle spillere det samme mål: påtage sig rollen som de amerikanske kolonister for at vinde uafhængighed fra briterne.
Forræder tilstand: Inkluderingen af en hemmelig forræder, der vil forsøge at modarbejde amerikanernes indsats, hvilket tilføjer et lumsk twist til co-op-tilstanden.
Mastermind: Når en spiller påtager sig rollen som George III, bliver Frihedssønnerne nødt til at slå sig sammen for at overvinde den britiske konges formidable kræfter.
For regler: TRYK HER
Tutorial Playthrough : Wayne Hansen
Game Components:
BRITISH FORCES cards
AMERICAN FORCES cards
FOUNDING FATHER cards
LOYALTY cards
RESERVE cards
Region Control Flag cards
86+ Wooden Game Units and Markers
Mounted Game Board
Rulebook
Battle Archive
Hidden Strike: American Revolution recreates the struggle between the American colonists and the British forces during the War of Independence. Each side tries to win the war by controlling a majority of regions.
Confronted by overwhelming forces, the colonists will need strategy to defeat the larger British army and navy to gain their Independence. This is a card driven game, where players manage their hand of cards, usually playing just one card a turn to allow them to move tokens representing military forces across the board into key spaces at key times.
The game can be played in five different modes:
Solitaire: For those brave enough to take on the British forces on their own this mode offers a regular and a hardcore option. This mode is a good starting point if you're trying to learn the game by yourself.
Versus: A fierce head-to-head in which one player pitches the British forces against the other player's American troops.
Co-op mode: In this cooperative mode all players share the same objective: take on the role of the American colonists to win Independence from the British.
Traitor Mode: The inclusion of a secret traitor who will try to thwart the Americans' efforts adds a devious twist to the co-op mode.
Mastermind: As one player assumes the role of George III the Sons of Liberty will have to band together to overcome the British King's formidable forces.