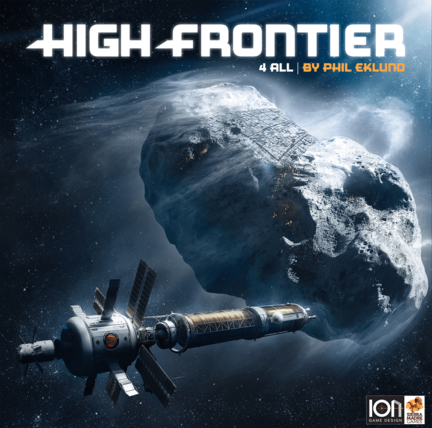 High Frontier 4 All
660,00 kr.
Varenummer: SMG28-4
Det hele startede med "Rocket Flight".

Dette spil har ambitionen om at lade Hver spiller starte som et rumfartsselskab der forsøger at tjene penge på handel og teknologiudvikling.
Antal spiller: 1 - 5 / Spilletid: 30 - 240 min. / Alder: 14+ / Sværhedsgrad: Heavy / Udgivet 2020
Andre vare fra Sierra Madre Games / ION

Varen kan desværre ikke købes, da der ikke er flere på lager
Dette er den 4. udgave af Phil Eklunds High Frontier.
High Frontier 4 All vil gøre High Frontier til et mere tilgængeligt spil ved hjælp af introduktionsspil, der introducerer mekanikken trin for trin samt tutorials og mange illustrerede eksempler og strategitips. Et spilsystem, åbent til tilføjelser og moduler.
Dette vil gøre det muligt for det aktive samfund omkring High Frontier at udvikle det kontinuerligt og for at ære dem ved at udgive moduler, som Phil finder værdig.
Spillet kommer i en Basisboks, som indeholder den forrige udgaves grundlæggende og avancerede regler.
Reglerne har fået en fuldstændig eftersyn for at gøre dem vandtætte og tilgængelige. Core-kassen indeholder også Module 0 -Politik.
Moduler med yderligere spil indhold vil blive offentliggjort over tid, der tilføjer gameplay og mekanik til spillet.
Manual TRYK HER
This is the 4th edition of Phil Eklund's signature game High Frontier.
It all started with Rocket Flight.
This game had the ambition to let "Each player start as a space faring company in the year 2020 trying to make a profit in trade and technology development.
" We are now at 2020 and High Frontier 4 All will turn High Frontier into a more accessible game, using introductory games that introduce the mechanics step by step as well as tutorials and a lot of illustrated examples and strategy tips. a game system, open for additions and modules.
This will enable the active and brilliant community around High Frontier to evolve it continuously and for us to honor them by publishing modules that Phil deem worthy.
The game comes in a Core box, which contains the previous edition's basic and advanced rules.
The rules have been given a complete overhaul in order to make them watertight and accessible. The Core box also includes Module 0 -Politics.
Modules of additional game content will be published over time that adds gameplay and mechanics to the game.