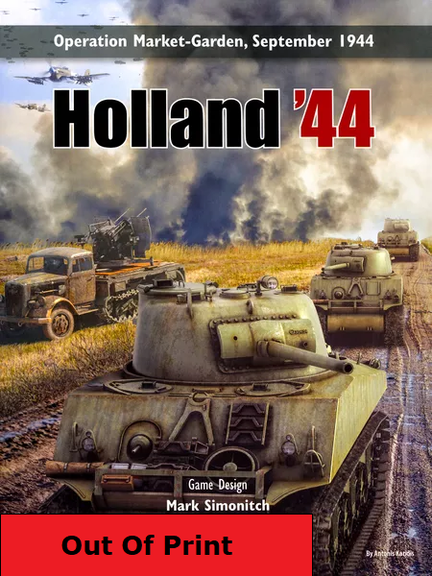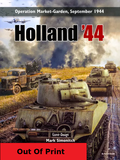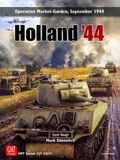 Holland ´44
480,00 kr.
Varenummer: GMT1713
Holland '44, Operation Market-Garden, september 1944 er et spil for to spillere, der skildrer de allieredes kombinerede jord- og luftbårne angreb i Holland under Anden Verdenskrig, som blev kaldt Operation Market-Garden.

Antal spiller: 2 / Spilletid: 240 - 900 min. / Alder 15+ / Sværhedsgrad: Medium heavy /Udgivet 2017

Andre vare fra GMT Games


Varen kan desværre ikke købes, da der ikke er flere på lager
Beskrivelse
Indeholder:
English:
Spillet starter med de luftbårne landinger den 17. september og fortsætter indtil den 23. september. Den allierede spiller har travlt med at få sine landstyrker frem så hurtigt som muligt for at aflaste sine belejrede luftbårne divisioner og erobre en bro over Rhinen.

Kortets skala er 2 kilometer pr. Hex og dækker slagmarken fra den belgiske grænse til Arnhem. Kortet indeholder også det område, hvor det britiske 8. korps kæmpede på højre flanke af 30. korps.

De fleste enheder i Holland '44 er bataljoner, men enheder spænder fra kompagni til brigader.

Holland '44 bruger et system, der meget ligner Ardennes '44: The Battle of the Bulge. Det er dybest set et simpelt bevægelse - kamp, min tur og din tur-spil.
Hvis du har spillet Ardennes ´44: The Battle Of The Bulg or Normandy '44, har du ingen problemer med at lære spillet. Regler som ZOC (kontrol af zoner) - fastlagt forsvar, udvidet bevægelse og trafikmarkører regenereres alle op igen.
På grund af det nederlandske terræn blev der lagt særlig vægt på flodkrydsninger, brobygning og kampe i det flade polder terræn.
For regler: TRYK HER
Gennemgang af spillet:
Game Inventory:
One 22 x 34" full color map
One 17 x 22" full color map (together = 22 x 43.5")
Two dual-side printed countersheet (468 9/16" counters)
One 40-page Holland '44 rulebook
Two dual-side printed Player Aid cards
One single-side printed Setup Card
Two 6-sided dice
Holland '44, Operation Market-Garden, September 1944 is a two-player game depicting the Allies' combined ground and airborne attack in the Netherlands during WWII, which was code named Operation Market-Garden.
The game starts with the airborne landings on September 17th and continues until September 23rd. The Allied player must rush his ground forces forward as fast as possible to relieve his beleaguered airborne divisions and capture a bridge across the Rhine.
The scale of the map is 2 kilometers per hex and covers the battlefield from the Belgian border to Arnhem. The map also includes the area where the British 8th Corps fought on the right flank of 30th Corps.
Most units in Holland '44 are battalions, but units range from Company to Brigades.
Holland '44 uses a system very similar to Ardennes '44: The Battle of the Bulge. It is basically a simple move-fight, I-go then u-go game. If you have played Ardennes ´44: The Battle Of The Bulg or Normandy '44 you will have no trouble learning the game. Rules such as ZOC Bonds, Determined Defense, Extended Movement, and Traffic Markers all make their reappearance. Due to the terrain of the Netherlands, special attention was given to river crossings, bridge building, and fighting in the flat polder terrain.
Game Scale:
Game Turn: 3 turns per day (AM, PM & Night)
Hex: 1.24 miles / 2 kilometers
Units: Company to Brigade