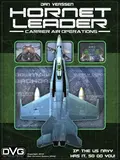 Hornet Leader - Carrier Operation
639,00 kr.
Varenummer: DV1-0015
Spillet placerer dig under kommando over piloter og fly fra den Amerikansk flåde, i fjendtlige kampagner rundt om i verden. tilgængelige fly/våben for hver kampagne, er historisk nøjagtige.

Libya 1984, North Atlantic WWIII 1986, Iraq 1991, Israeli Defense 2001, Syria 2004, Taiwan Defense 2008, North Korea 2011, Iran 2014
Antal spiller: 1 / Spilletid: 60 min. / Alder: 12+ / Sværhedsgrad: Medium / Udg. 2010
Andre vare fra Dan Verssen Games

Priser er inkl. moms
Hornet Leader - Carrier Air Operations is a huge game based on the material seen in our Vassal/PDF games. This new game takes a huge step forward in artwork created by Wan Chiu. Wan also created the fantastic artwork for our Frontline game, Alexander game, and the box art for our Phantom Leader.

We have also further enhanced the game systems and weapon values to make them fully consistent with the new systems seen in Phantom Leader.

Hornet Leader spans all aspects of US naval aviation throughout the service life of the F/A-18 Hornet from 1983 to the present day.

The game places you in command of the pilots and aircraft of a squadron of U.S. Navy strike aircraft in hostile campaigns around the world. The aircraft and weapons available for each campaign are historically accurate.

A major part of the game is mission planning. You decide how to arm your aircraft and which pilots are best for the mission. Pilots are rated for skill level. Deciding which pilots to fly each mission is a major consideration. Your pilots will become fatigued with every mission. If you fly a pilot too often, his skills will degrade. Your pilots also gain experience with every mission flown. This makes for some great decision-making. Should you keep flying the top pilots and further fatigue them to get the job done, or fly the new guys to prep them for the tough missions ahead?

Missions are quickly resolved using an area movement system to display tactical combat over the target. Priority is placed on speed and realism. You get to resolve every missile launched at enemy bandits, and every air to ground attack against the enemy target. You also get to resolve the enemy SAM, AAA, and Bandit attacks against your aircraft.

While performing each mission, you get to decide how your pilots engage the enemy Bandits, SAMs, and AAA Sites. This makes for some tough choices. The more suppression munitions you haul to the target, the safer your pilots will be, but you will be able to load fewer munitions to destroy the target.

We've included the cards for every pilot to progress in experience from Newbie, to Green, Average, Skilled, Veteran, and Ace!

Key Design Features:
An all-around excellent solitaire game.
Manage your pilots as well as your hardware to be a successful squadron commander.
Intuitive, fast-playing game system.

Hornet Leader includes the following aircraft:
F/A-18C Hornet
F/A-18E Super Hornet
F/A-18F Super Hornet
EA-18G Grizzly
F-14 Tomcat
A-6 Intruder
A-7 Corsair II
EA-6B Prowler
E-2C Hawkeye
AV-8B Harrier II

Hornet Leader includes the following weapons:
AIM-9 Sidewinder, AIM-7 Sparrow, AIM-120 AMRAAM, AM-54 Phoenix, Mk. 82, Mk. 83, Mk. 84, AGM-88 HARM, AGM-65 Maverick, AGM-84 Harpoon/SLAM, AGM-130, AGM-154, Mk. 20 Rockeye, ECM Pods, GBU-10, GBU-12, GBU-16, Rocket Pods

If the US Navy has it, so do you!

And ONE thing, even they don't have yet... The F-35!

Component List:
330 Full Color Cards
2 Full Color Counter Sheets (352 counters)
8 Full Color Campaign sheets: Libya 1984, WWIII North Atlantic 1986, Syria 2004, Taiwan Defense 2008, Iraq 1991, Iran 2014, Israel Defense 2001, and North Korea 2011
11" x 17" Mounted Tactical Sheet
Full Color Player Aid Sheets


Target Audience:
This game is perfect for both expert level military gamers as well as first time gamers. The core rules are easy to grasp and very intuitive, while still giving players a wide variety of decision-making options and tactical choices.
For Manual: TRYK HER
Unboxing: