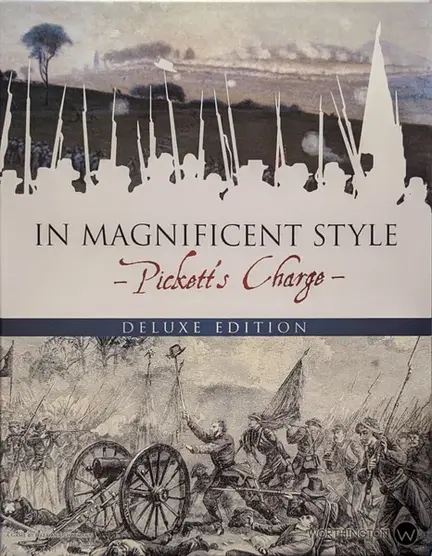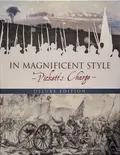 In Magnificent Style: Pickett's Charge at Gettysburg
635,00 kr.
Varenummer: WPUB064
"In Magnificent Style" er et solo spil, der skildrer det sidste desperate Confederate angreb den 3. juli 1863 i slaget ved Gettysburg.
Antal spiller: 1 / Spilletid: 60 min. / Alder: 13+ / Sværhedsgrad: Medium/Light / Udgivet 2012
Andre vare fra Worthington Publishing

Priser er inkl. moms
Du kommanderer de konfødererede brigader, der lavede Pickett's Charge.
General Lees Army of Northern Virginia har kæmpet mod General Meades Army of the Potomac i to brutale dage i Gettysburg.
Lees hær har opnået nogle succeser, men kunne ikke opnå det afgørende gennembrud af Unionens linjer.
På den tredje dag besluttede Lee, på trods af modstand fra hans betroede "Old Warhorse"-general Longstreet, et massivt angreb mod, hvad han anså for at være det svage sted i Unionens kamplinje.
Dette dramatiske, berygtede overfald er populært kendt som Pickett's Charge.
Spille systemet byder på nogle nye versioner af den traditionelle "push-your-luck"-mekaniker.
Som general Longstreet skal du beslutte hvor hurtigt du vil presse dine fremrykkende tropper hen over det dødelige åbne område, før du tillader mændene at omgruppere sig.
Men tiden er ikke på din side, og jo længere dine trofaste soldater forbliver i denne malstrøm af fjendtlig ild, jo farligere bliver det, og jo mindre sandsynligt er det, at de vil ankomme med overvældende styrke og det antal der kræves for at klare dagen.
Held og lykke!
Review:
Spil gennemgang:
Thick game box
Large 22" x 25" hard mounted game board
2 sheets of counters with extra large counters! (unit counters 1.5" x .75", markers are .75" x .75")
Rules
Player Aid sheet
45 Event cards
12 Dice
Battle Archive Booklet (Victory archive to record your many glorious victories!)
Custom counter tray