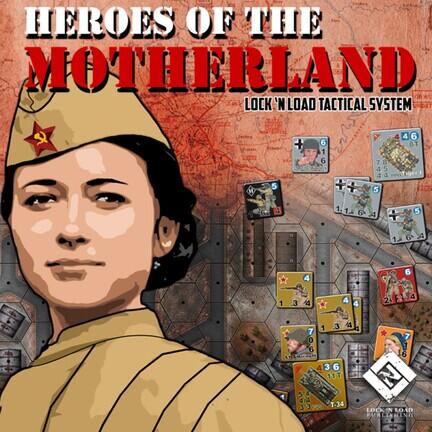 Lock n Load Tactical Heroes Of The Motherland
745,00 kr.
Varenummer: LLP313411
Lock 'n Load Tactical Serie rykker ind i Anden Verdenskrigs østfront med Heroes of the Motherland.
Antal spiller: 2 / Spilletid: 120 - 240 min. / Alder: 12+ / Sværhedsgrad: Medium / Udgivet 2015
Andre vare fra Lock N Load Publishing

Priser er inkl. moms
Beskrivelse
Indeholder:
English:
Sovjetiske skæbne står på spil når de voldsomme kampe skildres over den russiske steppe i ruinerne af Stalingrad og i partisaninficerede skove.
Fra infanteri ansporet af kommissærer, til frygtløse vagter og stolte partisaner, er Sovjetterne klar til alt, hvad den tyske Wehrmacht og SS kaster mod dem.
Det er soldat mod soldat og tank mod tank. Uanset styrkeforholdene er Sovjetterne klar til at forsvare deres hjemland til det sidste.
Krav: Intet andet produkt kræves for at spille dette spil. Dette spil indeholder noget tidligere frigivet materiale fra Not One Step Back, Swift and the Bold and Band of Heroes.
Unboxing:
14 x Color Geomorphic 8.25 x 12.75 Maps.
5 x Counter Sheets with over 550+ counters.
1 x Color Core Rules v4.1. Please Note: LnLT Core Rules manual is available as a separate product.
1 x Color Game Module rules, Examples of Play with 12 Scenarios and One Campaign.
3 x 11 x 17 Player Aid Cards.
2 x 8 x 11 Player Aid Cards.
2 x D6 Dice
1 x Heavy Duty box.
CThe Lock 'n Load Tactical Series advances into World War II's Eastern Front with Heroes of the Motherland.
The fate of the Soviet Rodina is at stake depicting ferocious battles across the Russian steppe, in the ruins of Stalingrad, and in Partisan-infested woods.
From infantry spurred on by Commissars to intrepid Guards and stoic Partisans, the Soviets are poised for anything the German Wehrmacht and SS throw at them.
It's soldier against soldier and tank against tank. No matter the forces or the setting, the Soviets are poised to defend their homeland to the end.
Requirements: No other product is required to play this game. This game contains some previously released material from Not One Step Back, Swift and the Bold and Band of Heroes.