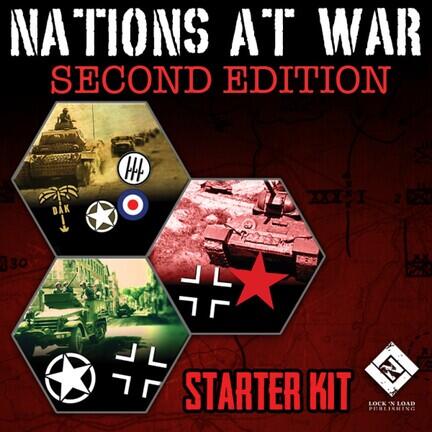 Nations At War Starter Kit V3.0
185,00 kr.
Varenummer: LLP313718
Nations At War Starter Kit v3.0 - Play the Game and Not the Rules
Antal spiller: 1 - 2 / Spilletid: 30 - 90 min. / Alder: 14+ / Sværhedsgrad: Medium / Udgivet 2019
Andre vare fra Lock N Load Publishing


Priser er inkl. moms
Har du nogensinde ønsket at du kunne prøve et nyt spilsystem og finde ud af om at det er noget for dig? Det kan du med Nations At War Starter Kit.
Nations At War Starter Kit giver dig en chance for at spille et sceneri fra vores Stalins Triumph-spil.
Dette spil er designet og produceret med nye som erfarende spiller i tankerne. Der bruges store skrift størrelse, som gør spillet lettere at læse med komponenter i høj kvalitet.
Manualerne har mange eksempler til at illustrere spilmekanikken. Producentens motto er "Spil spillet, ikke reglerne", fordi at de mener det er den bedste måde at lære et spil på.
Dette opnås med omfattende afspilningslister med "boot camp" -træningsvideoer, der er tilgængelige på YouTube, der fører dig gennem hele systemet regel for regel.
Spille manual fås i en række forskellige formater gratis, disse inkluderer PDF-, EPUB-, MP3- (YES Audio) og MP4 Audiobook-formater.
Herud over er spillet Nations At War meget solo venligt på grund af dets aktiveringssystem.
Inkluderet i vores NaW Starter Kit er et 11 x 17-kort i fuld farve, et ark med 44 afrundede brikker 2 mm tyk, et 11 x 17-hjælpekort til spillere, et sæt spillekort og links til download af din fortrukne spilmanual . Det eneste, du har brug for et sæt 1d6 terninger.
VIGTIGT BEMÆRK: Dette startpakke indeholder IKKE en trykt spilmanual, skal downloades.
Do you ever wish you could try a new game system and make sure it is for you? Well now you can, with our Nations At War Starter Kit.
Nations At War Starter Kit gives you a chance to play a scenario from our Stalin's Triumph game.
Our games are designed and produced with the new player in mind, and for today's gamers: we use a large font size making our games easy to read, with high-quality components.
Our manuals have lots of examples to illustrate the game mechanics. Our motto is "Play the Game, Not the Rules" because we understand that the best way to learn a game system is to be shown.
We achieve this with our extensive play-list of "boot camp" training videos, available on YouTube, that walk you through the entire system rule by rule.
Our game manual comes in a variety of formats for free, these include PDF, EPUB, MP3 (YES Audio), and MP4 Audiobook formats.
On top of that, the game the Nations At War system is very solitaire friendly due to its activation system.
Included in our NaW Starter Kit is a full color printed 11 x 17 map, one counter sheet with 44 rounded counters 2 mm thick, an 11 x 17 player aid card, a set of playing cards, and links to download your preferred game manual. The only thing you will need a set if 1d6 dice.
IMPORTANT NOTE: This Starter Kit DOES NOT include a printed game manual.