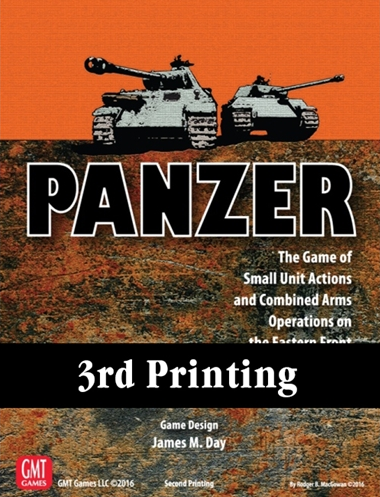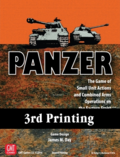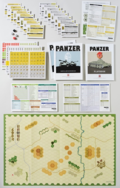 Panzer 3rd printing
595,00 kr.
Varenummer: GMT1207-16
Kampvognene gør klar til handling.
Brændstoftankene er proppet og ammunitionen fyldt op.
Kommandørerne konfererer en sidste gang for at gennemgå slagplanen.
De afventer dine ordrer.
Antal spiller: 2 - 4 / Spilletid: 120 - 300 / Alder: 12+ / Sværhedsgrad: Medium-Heavy / Gen. Udgivet 2021
Andre vare fra GMT Games


Priser er inkl. moms
Efterhånden som tågen letter, rykker din belejrede kampgruppe igen i position for at dække det tilbagetrækkende infanteri.
Det er deres eneste mulige flugtvej.
Fejl er ikke en mulighed – det er den aldrig.
Dine rækker er blevet tyndere siden dine første dage på østfronten.
Disse engang afslappede tider er nu kommet og gået.
Målet er enkelt. Det er bare med at holde linen indtil forstærkningerne kommer.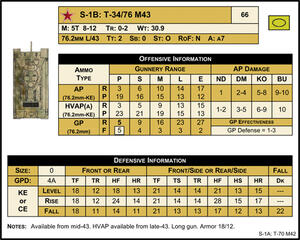 Den skarpende lyd fra en kampvognskanon til højre, for dig hurtigt til at fokuserer din opmærksomhed tilbage til den aktuelle situation.
Fjenden er hurtigt fremme.
Du beordrer flanken til at gå i indgreb, alt imens du holder et vågent øje til venstre og tænker at dette blot er endnu en afledningsmanøvre.
Igen er din mistanke er korrekt.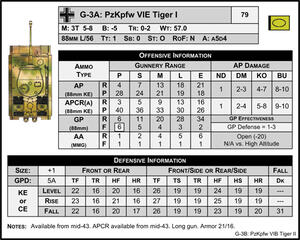 Deres hovedstyrke angriber lige over stigningen på din venstre side.
Du beordre hoveddelen af styrken frem.
Motorerne buldrer, kanonerne skræller og eksplosioner bryder ud.
Dine styrker vil endnu en gang holde for!
For regler: TRYK HER / For play book: TRYK HER
2 Sumary Cards
16 full-color Tank Data Cards
Three full-color countersheets
22x34 inch map with one inch hexes
Rulebook
Panzer Major Points
Game system designed for small unit actions from platoon to battalion-sized formations
Vehicles, towed guns, and aircraft are scaled at 1:1 with each 7/8" double-sided counter representing a single unit
The 5/8" double-sided leg unit counters are scaled at squads, half-squads, and sections, including their attached weapons
Ground scale is 100 meters per hex
Comprehensive yet quick to play
Basic set includes a 22" x 34" mapboard
Expansion sets include multiple double-sided geomorphic mapboards
Full color illustrated manual with various player aids and reference cards
Modular rules system with Basic, Advanced, and Optional rules section. Players may keep it simple or as complex as desired.
Includes rules for:
Vehicle include 11 unique hit locations, armor angles, and penetration charts for level, rising, and falling fire
Various ammunition type, e.g., AP, HVAP, APCR, HEAT, HE
Sighting Effects
Overwatch fire
Rate-of-fire
Indirect fire, both on gameboard and off gameboard
Hand-to-hand combat
Close assault
Troop quality
Command control
Unit cohesion
Morale
Smoke Effects
Mines
Obstruction
Bogging
Air-to-ground and anti-aircraft combat
All of the unit data is included on the full-color data cards.
The streamlined chit-based command system moves the action along at a brisk pace
Scenario and TO&E Reference Book
The add-on modules expand the game from the basic set.
Covers the major theaters of WWII including the:
Eastern Front
Western Front
North Africa
Playbook
Five Player Aid Cards
Four 10-sided dice