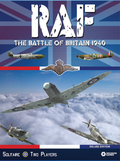 RAF The Battle Of Britain 1940 Deluxe Edition
900,00 kr.
Varenummer: DCG1019
RAF: Slaget om Storbritannien 1940 er tre spil i ét om historiens største luftkampagne.

Antal spillere: 1 / Spilletid: 300 minutter / Alder: 14+ / Sværhedsgrad: medium-Heavy / År. 2009
Andre vare fra Decisions Games

(deluxe 2019)
Varen kan desværre ikke købes, da der ikke er flere på lager
Beskrivelse
Indehold:
English:
RAF: LION opdaterer det klassiske originale Solo spil - du styrer RAF mod de tyske styrker.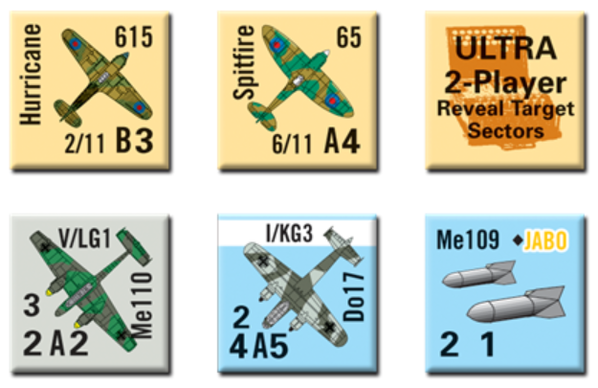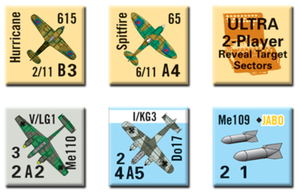 Alle systemer er blevet opdateret for at afspejle virkeligheden, især trætheds- og patruljesystemerne.
Avancerede regler dækker sen aflytning, VHF-udstyrede eskadriller og modsvar-taktik, Es eskadriller, flyvepladsmål, Forsinket RAF reaktion og mere!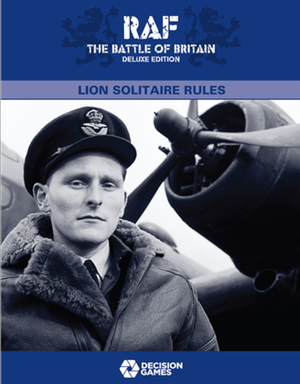 RAF: EAGLE vender solo spillet - du styrer nu Luftwaffe planlægning og udførelse af angreb mod RAF. Her vender du kortet for at få et tysk perspektiv på kampagnen. Avancerede regler inkluderer krav fra øverste ledelse, mål langt inde i fjendeland, og særlige regler for Ju-87 Stukas.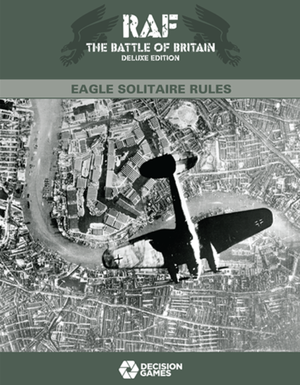 RAF: 2-PLAYER muliggør head-to-head spil. Et separat tysk planlægningssystem tilføjes for at give den tyske spiller mulighed for at planlægge sine angreb i hemmelighed.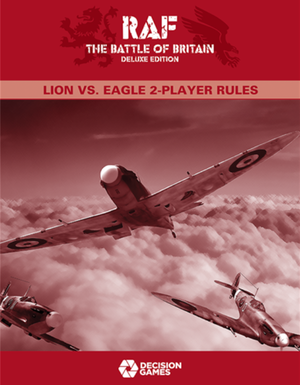 Hvert spil har sit eget komplette regelsæt.
176 Die Cut Counters
165 Cards
2 34" x 22" Maps
3 Rule Booklets
2 Player German Planning Board
2 Combat Damage Sheets (Double-Sided)
2 Miscellaneous Player Aids (Double-Sided)
1 Sequence of Play Sheet (Double-Sided)
1 Battle of Britain Historical Guide (reprinted from S&T Magazine #256)
2 6-sided dice
Storage Bags
RAF: The Battle of Britain 1940 is three games in one, on history's greatest air campaign.
RAF:LION updates the classic original solitaire game -- you control the RAF against the German raiders. All systems have been updated to reflect recent scholarship, notably the fatigue and patrol systems. Advanced rules cover late interception, VHF-equipped squadrons and evasion tactics, Ace squadrons, Forward Airfield Targets, Delayed RAF Response and more!
RAF:EAGLE reverses the solo game -- you control the Luftwaffe planning and executing raids against the RAF. Also, you flip the map over for a German perspective on the campaign. Advanced rules include, High Command requirements, deep targets, Jabos and special rules for Ju-87 Stukas.
RAF: 2-PLAYER allows for head-to-head play. A separate German planning display is added to allow the German player to plan his raids in secret.
Each game has its own complete rules booklet.
Contents:
176 Die Cut Counters
165 Cards
2 34" x 22" Maps
3 Rule Booklets
2 Player German Planning Board
2 Combat Damage Sheets (Double-Sided)
2 Miscellaneous Player Aids (Double-Sided)
1 Sequence of Play Sheet (Double-Sided)
1 Battle of Britain Historical Guide (reprinted from S&T Magazine #256)
2 6-sided dice
Storage Bags