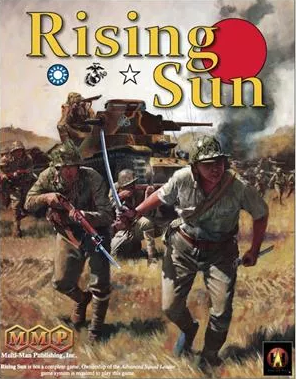 Rising Sun: ASL Module 13
1.750,00 kr.
Varenummer: MMPRS
Multi-Man Publishing has combined the original ASL modules Code of Bushido and Gung Ho! into one package.
Rising Sun includes the entire Japanese, Chinese, and United States Marine Corps orders of battle; a 2nd edition of Chapter G, which covers the unique rules needed to play ASL in the Pacific Theater of Operations and incorporates all the current errata; and an updated Chapter H for the Japanese and Chinese vehicles and ordnance and for landing craft.
(Kræver forgående moduler for at kunne spilles)
Antal spiller: 2-4 / Spilletid: 180 Min. / Alder: 14+ / Sværhedsgrad: Heavy / Udgivet 2013
Andre vare fra Multi-Man Publishing

Varen kan desværre ikke købes, da der ikke er flere på lager
Also included are 32 updated scenarios, combining the original Code of Bushido and Gung Ho! scenarios with 16 out-of-print PTO scenarios that originally appeared in the pages of the GENERAL, the ASL Annual, and the ASL Journal. From the ASL '93b Annual comes the Gavutu-Tanambogo campaign game (Sand and Blood), a new 17˝×22˝ Gavutu-Tanambogo map, and Chapter Z pages. Scenario errata have been incorporated, and new errata has been issued for the older scenarios to reflect the balancing changes made to the updated scenarios.
The package is rounded out by seven 8˝×22˝ geomorphic mapboards (boards 34-39 and 47) and dozens of overlays, all updated to match the latest style of boards. Both the rules and the counters benefit from a larger, more readable font.
Rising Sun is not a complete game; ownership of the Advanced Squad Leader game system is required to play the scenarios herein.
Rising Sun contains:
Revised Chapter G; Chapter H for Japanese, Chinese, and Landing Craft; and Chapter Z (Gavutu-Tanambogo Campaign Game)
1,300 ½" counters and 592 5/8" counters (1,892 total)
boards 34-39, 47, Gavutu-Tanambogo HASL map
overlays 1-5, B1-B5, Be1-7, Ef1-3, G1-5, M1-5, O1-5, OC1-4, OG1-5, P1-5, RP1-5, Wd1-5, X6, X11, X25-X29
32 scenarios:
from Code of Bushido]
59 Smertniki
60 On The Kokoda Trail
61 Shoestring RidgeBungle
62 In The Jungle
63 The Eastern Gate
64 Hazardous Occupation
65 Red Star, Red Sun
66 The Bushmasters
[from Gung Ho!]
67 Cibik's Ridge
68 The Rock
69 Today We Attack
70 KP 167
71 Jungle Citadel
72 Sea Of Tranquility
73 Hell Or High Water
74 Bloody Red Beach
[from ASL Annual '93b]
Grabbing Gavutu
Tanambogo Nightmare
Take Two
The Drive For Taierzhuang
Shanghai In Flames
A Stiff Fight
Ramsey's Charge
Munda Mash
Totsugeki!
Orange At Walawbum
Smith & Weston
Broken Bamboo
OP Hill
Last Of Their Strength
White Tigers
Battlin' Buckeyes