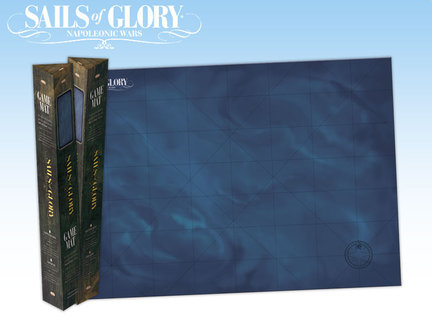 Sails Of Glory Map (spilunderlag )
305,00 kr.
Varenummer: AGSSGN501A
Sails Of Glory Game Mat er et ekstra tykt modul spilunderlag til dine Sails Of Glory kampe.
Andre vare fra Ares Games


Varen kan desværre ikke købes, da der ikke er flere på lager
Med en størrelse på 67 x 98 cm (ca. 26 tommer x 39 tommer) er den designet til at passe til de fleste normale borde. To eller flere spilmåtter kan sammenføjes for at spille større kampe.
Spillemåtten har et svagt gitter svarende til et nautisk kort for at gøre det lettere at vurdere vindretningen end på et normalt spilbord. Det kan bruges alene til at repræsentere kampe i det åbne hav eller kombineret med terrænelementerne inkluderet i Starter Set eller Terrain Packs for at skabe hundreder af forskellige scenarier.
Sails of Glory® Game Mat er designet til at blive brugt med det taktiske spil-til-skib-spilsystem oprettet af Andrea Angiolino og Andrea Mainini og er også velegnet til brug sammen med ethvert andet regelsæt til marine wargaming.
Mats for Sails Of Glory.
With a size of 67 x 98 cm (approximately 26 in. x 39 in.), it is designed to fit most normal tables. Two or more game mats can be joined together to play larger battles.
The game mat features a faint grid similar to a nautical map, to make assessing the direction of the wind easier than on a normal gaming table. It can be used on its own to represent battles in the open sea, or combined with the terrain elements included in the Starter Set or Terrain Packs to create hundreds of different scenarios.
Designed to be used with the tactical ship-to-ship game system created by Andrea Angiolino and Andrea Mainini, the Sails of Glory® Game Mat is also suitable for use with any other naval wargaming rule set.