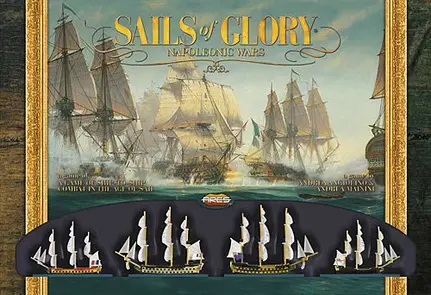 Sails Of Glory - Starter Set
699,00 kr.
Varenummer: AGSSGN001A
I Sails of Glory vil du sejle og kæmpe med massive ships-of-the-line eller hurtige fregatter i en tid, hvor hære og flåder fra den franske kejser Napoleon kæmpede på havene, såvel som på Europas marker og den magtfulde britiske flåde fra det Britiske imperium stødte sammen med den Franske fra Atlanterhavet til Middelhavet i dramatiske søslag, såsom Trafalgar og Slaget ved Nilen. (spille underlag skal tilkøbes)

Antal spiller: 2 - 4 / Spilletid: 45 min. / Alder: 13+ / Sværhedsgrad: Medium/Light / Gen. udgivet. 2021
Andre vare fra Ares Games
Varen kan desværre ikke købes, da der ikke er flere på lager
Beskrivelse
Indeholder:
English:
Dette Starter Set er et komplet spil for 2-4 spillere, og er også indgangen til et spil der giver spillerne mulighed for at genskabe de episke søslag i "Age of sails".

Hurtigt at spille og let at lære, Sails of Glory bruger færdigmalede og samlede skibsminiaturer og en innovativ bevægelsesmekaniker, inspireret af det anerkendte system, der også bruges i Wings of Glory spillene.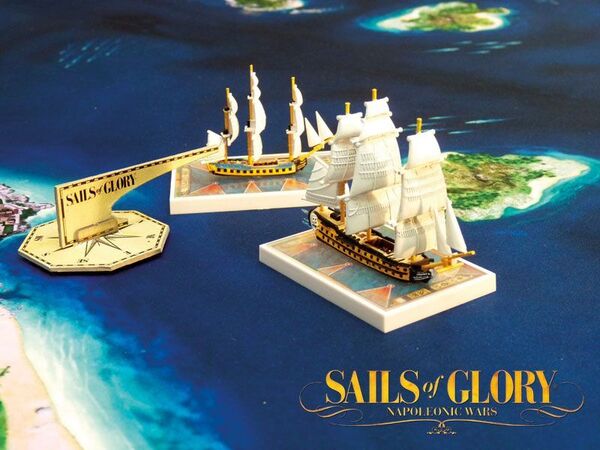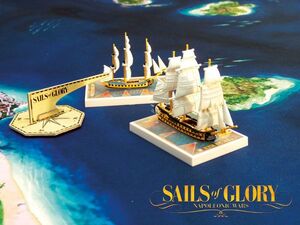 Fire skibe, to franske og to britiske, er inkluderet, hvert skib er suppleret med et specifikt manøvredæk og skibslog.
Også inkluderet er en fuldfarvet regelbog, tællere og tilbehør, der gør sails of glory nemt at spille på få minutter.
For at downloade regler: TRYK HER
Spil gennemgang:


Four 1/1000 scale ships with their specific gaming bases
4 maneuver decks
32-page full color rulebook (including fast-play rules)
4 ship logs
2 measuring rulers
6 punchboards of counters, tokens and markers
In Sails of Glory® you will sail and fight with massive ships-of-the-line or swift frigates, in an age where the armies and fleets of the French Emperor Napoleon I battled across the seas, as well as on the fields of Europe, and the powerful Royal Navy of the British Empire clashed against the French from the Atlantic Ocean to the Mediterranean Sea, in dramatic naval battles, such as Trafalgar and the Battle of the Nile.
This Starter Set is a complete game for 2-4 players, and also the entry point to a game system that allows players to recreate the epic naval battles of the of the "Age of Sail".
Fast playing and easy-to-learn, Sails of Glory uses pre-painted and assembled ship miniatures and an innovative movement mechanic, inspired by the acclaimed system used in our Wings of Glory® game.
Four ships, two French and two British, are included, each ship complemented by a specific maneuver deck and ship log.
Also included is a full color rulebook, counters, and accessories, to start playing out of the box in mere minutes.