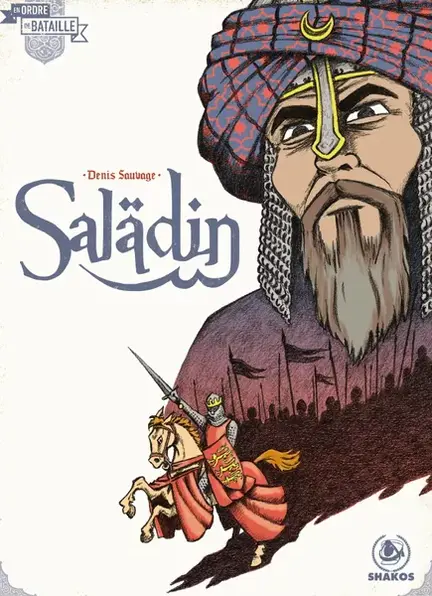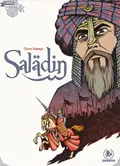 Saladin
279,00 kr.
Varenummer: Shako0004
Saladin er det første spil i serien "En Ordre de Bataille", som for hvert bind vil præsentere en legendarisk middelalderleder og to kampe, hvor han har vist sit værd.
Antal spiller: 2 / Spilletid: 45 - 60 min. / Alder: 14+ / Sværhedsgrad: Medium/light / Udgivet 2022
Andre vare fra Shakos

Priser er inkl. moms
Saladin er et spil der er beregnet til at genskabe de berømte slag ved Hattin og Arsuf, hvor Saladin var i krig med korsfarerstropperne fra Guy de Lusignan og derefter mod dem fra Richard Løvehjerte.
Beordr dine ryttere til at chikanere korsfarernes rækker eller indlede et ødelæggende angreb med dine tungt pansrede riddere.
Saladin er et episk spil for historie- og strategifans.
Vil du være i stand til at føre dine mænd til sejr?
Saladin er et historisk krigsspil for 2 spillere.
Efter at have valgt et af de to kampscenarier og sat spillet op, vil hver spiller på sin side beordre et af deres bannerføre.
Han vil få dem til at kæmpe for at desorganisere deres modstanders.
Til dette vil det være nødvendigt at bruge Ordrepoletter, hvis antal vil falde i begyndelsen af hver tur.
Spilleren, der vil formå at bevare samhørigheden af sine tropper ved at beholde de dyrebare Ordrepoletter, vil blive erklæret som vinder.
For regler: TRYK HER
Spil gennemgang:
Saladin is the first game of the series "En Ordre de Bataille" which will present for each volume a legendary medieval leader and two battles in which he has shown himself.
When the game meets History:
Saladin is a game intended to recreate the famous battles of Hattin and Arsuf where Saladin was opposed to the crusaders troops of Guy de Lusignan and then to those of Richard the Lionheart. With Saladin take charge of one of the armies that fought each other. Order your horsemen to harass the crusaders ranks or launch a devastating charge with your heavily armored knights. Saladin is an epic game for history and strategy fans.
Will you be able to lead your men to victory?
Saladin is a historical wargame for 2 players. Having chosen one of the two battle scenarios and set up the game, each player, in turn, will order one of their Banners. He will make them fight in order to disorganize those of their opponent. For this it will be necessary to spend Order tokens, the number of which will decrease at the beginning of each turn.
The player who will manage to preserve the cohesion of his troops by retaining the precious Order tokens will be declared the winner.