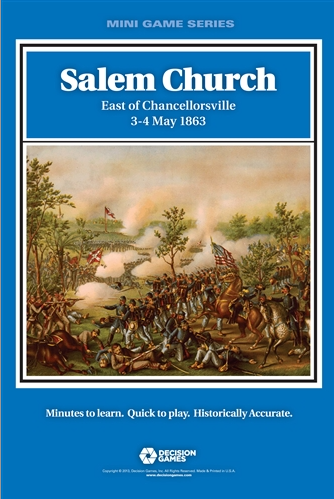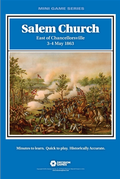 Salem Church: East of Chancellorsville
115,00 kr.
Varenummer: DCG1712
Mini Serie spil.
Antal spiller: 1 - 2 / Spilletid: 60 minutter / Alder: 12+ / Sværhedsgrad: Medium Light / Engelsk manual


Priser er inkl. moms
Beskrivelse
Indeholder
DC mini Game Series Introduction:
As the battle of Chancellorsville raged, a Union corps was dispatched to hit the vulnerable Confederate army from behind

The flanking column was delayed by a single Confederate brigade at Salem Church. The battle grew as Confederate arrived first to firm up the front, then to turn the tables on the Federals. The flankers became flanked, then had to fight for their lives.
Game Contents:
• 11 x 17" map
• 40 die-cut counters
• Scenario Instructions
• Four page rule booklet
Scale:
• Players: 2
• Level: Brigade
• Hex: 352 yards
The Mini Game Series provides a variety of introductory games that are designed to be played in about an hour. The eras covered are: 19th century, Ancient, WWII and Modern. Each game is an 11 x 17 inch map sheet, 40 counters and a rules sheet. The mini game series takes only minutes to learn and once one game is played, players can immediately play other scenarios with the same standard rules. Some games come with cards that drive the action with various commands and events.