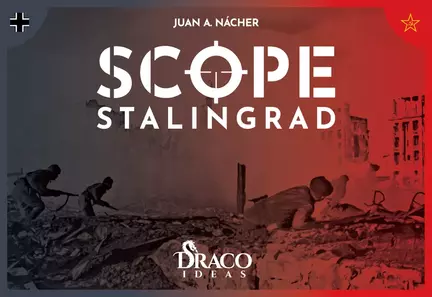 SCOPE Stalingrad
169,00 kr.
Varenummer: Drago-Scope
SCOPE er et spil med 2 til 4 spillere, der foregår i slaget ved Stalingrad, hvor spillerne påtager sig rollen som snigskyttehold på begge sider.
Formålet med spillet er at eliminere fjendens snigskytter eller fjendtlige tropper for en samlet værdi af point afhængigt af scenariet, der spilles.
Antal spiller: 2 - 4 / Spilletid: 10 - 15 Min. / Alder: 12+ / Sværhedsgrad: Medium-Light / Udgivet 2020
Andre vare fra Drago Ideas

Priser er inkl. moms
A fast and immersive game of 5-15 minutes per match, with various levels of difficulty and rules that are explained in two minutes on the clock.
When you try it, you won't be able to stop playing it.
SCOPE is a game of strategy, cunning, and bluffing that will make you feel like a real sniper, searching and selecting your targets, shooting wisely and changing position so as not to be discovered and eliminated.
RULES:
GAME SET UP: each player places their Area Cards face down, in a rectangular matrix that forms their Front. You can arrange the cards anywhere. The number and type of cards depends on the chosen Scenario. A player can look at their cards whenever they want during the course of the game.
OBJECTIVE: The player who first eliminates all the Snipers of the rival team or who first reaches the Objective Points of the chosen Scenario wins.
For regler: TRYK HER
Trailer:
6 Shooter's cards (3 German and 3 Soviet).
28 Empty Area cards (14 German and 14 Soviet).
20 Unit cards (2×5 German and 2×5 Soviet).
4 Decoy cards (2 German and 2 Soviet).
2 Fire cards (1 German and 1 Soviet).
Rules of the game in Spanish and English (88×88 mm).
Box (16x11x4 cm).