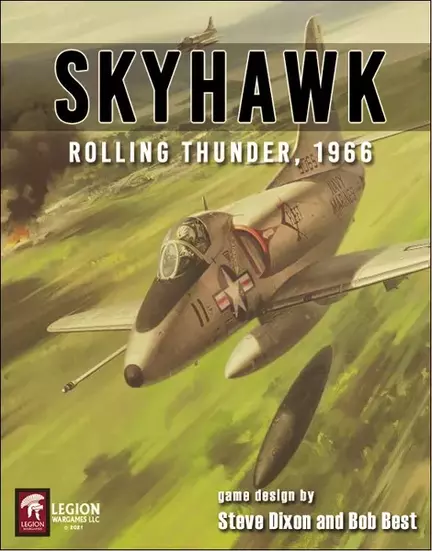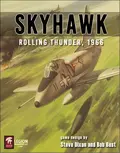 Skyhawk: Rolling Thunder, 1966
699,00 kr.
Varenummer: LWG2203
Skyhawk is a solitaire game which puts the player in the cockpit of an A-4E Skyhawk of VA-72 flying missions during the early days of Operation Rolling Thunder.
Your base of operations is the USS Franklin D. Roosevelt on duty at Yankee Station.
You play as a Navy pilot flying strike missions against targets in North Vietnam. Your goal will be to survive a mission or a campaign.
Antal spiller: 1 / Spilletid: 30 - 180 Min. / Alder: 14+ / Sværhedsgrad: Medium-Light / Udgivet 2022
Andre vare fra Legion Wargames

Priser er inkl. moms
The Skyhawk was a nimble aircraft and was capable of carrying slightly over four tons of
ordnance. Depending on your target, the player has the opportunity to load out his aircraft to meet the mission requirements. The missions will not be easy. President Johnson and his civilian advisors may even change your target or ordnance loading depending upon the political situation in the USA.
Facing you will be a determined North Vietnamese force. It is possible you will face small arms fire, AAA, SAM launches, and a rare encounter with a MiG. You will have help. Support Forces allow the player to attack NV defense forces before you attack your target. Their success could make your job easier.
The player may fly a single mission or play one of the three campaigns included in the game. These campaigns are:
First Tour of Duty: Yankee Station: 10 August 1966 – 10 September 1966
Second Tour of Duty: Yankee Station 20 October 1966 – 27 December 1966
The third campaign combines the two campaigns above with additional rules.
The game is not meant to be a detailed simulation of the Rolling Thunder campaign. It is a simple yet engaging, quick game for the player. Concepts for the game come from B-29 Superfortress, Target for Today, Target for Tonight, all of which are designed by Steve Dixon.
For regler: TRYK HER