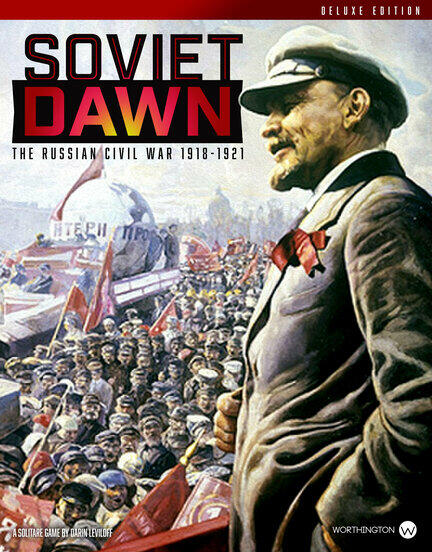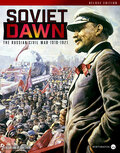 Soviet Dawn: Deluxe Edition
749,00 kr.
Varenummer: WPUB068
Soviet Dawn Deluxe Edition bringer Darin Leviloffs nye States of Siege - spil tilbage til et meget større eventyr, der dækker den russiske borgerkrig fra 1918 til 1921. Opgraderet med et større, Mounted spille bræt, smukke kort, store brikker, fuld farve regler og meget mere!

Antal spiller: 1 / Spilletid: 25 - 60 min. / Alder 14+ /Sværhedsgrad: Medium / udgivet 2021
Andre vare fra Worthington Publishing

Priser er inkl. moms
Beskrivelse
Indeholder:
English:
Med flere fjendtlige "fronter", der samles i Moskva, hviler revolutionens skæbne og den internationale kommunismes prestige på din evne til at håndtere og løse enhver krise, som "de hvide" kan angribe dig med.
Efterhånden som overskrifterne udfolder sig, trækker du på militære og politiske ressourcer eller forsøger at omorganisere Den Røde Hær, hvilket der i høj grad kan forbedre din position. Hvem ved? Du kan endda indtage de imperialistiske guld Reserver!
Kan du håndtere datidens store kriser og forsvare revolutionen? Vil du trække dig tilbage fra den store krig (WW1) eller udøve Bukharin muligheden og kæmpe videre? Kan du henrette zaren i tide, eller vil de hvide redde ham? Vil du befæste Petrograd, eller presse dine offensive hjem? Hvordan vil du håndtere intern og ekstern uenighed? Spil Soviet Dawn og se!
Inkluderer udvidelsessættet.
Large Mounted game board
Sheet of thick counters with rounded corners
Bases for standup Front counters
Deck of cards with linen finish / rounded corners
Counter Tray
Revolution Archive for tracking your many victories
Rulebook
1 six sided die
Soviet Dawn Deluxe Edition brings Darin Leviloff's novel States of Siege game system back for a much larger storytelling adventure covering the Russian Civil War from 1918 to 1921. Upgraded with a bigger, hard mounted game board, beautiful linen finish cards, large counters, full color rules, and more!
With several enemy "Fronts" converging on Moscow, the fate of the revolution and the prestige of international communism rests on your ability to manage and resolve every crisis that the "Whites" can assail you with.
As the headlines unfold, you draw upon military and political resources to help you, or try to reorganize the Red Army for special abilities that can greatly enhance your position. Who knows? You might even capture the Imperial Gold Reserve!
Can you deal with the great crises of that time and defend the revolution? Will you withdraw from the Great War (WW1) or exercise the Bukharin Option and fight on? Can you execute the Czar in time, or will the Whites rescue him? Will you fortify Petrograd or press your offensives home? How will you deal with internal and external dissent? Play Soviet Dawn and see!
Includes the expansion set.