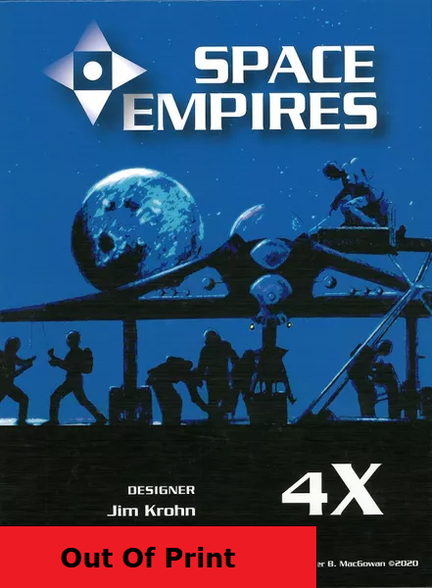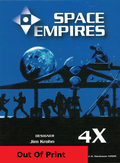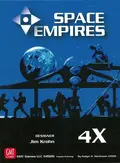 Space Empire 4X, 5 printing
599,00 kr.
Varenummer: GMT1108-17
Space Empires 4X er et spil i den fineste tradition for 4X rumspil - eXplore, eXpand, eXploit og eXterminate.
Antal spiller: 1 - 4 / Spilletid: 240 min. / Alder: 12+ / Sværhedsgrad: Medium+ / Genudgivet. 2021
Andre vare fra GMT Games

Varen kan desværre ikke købes, da der ikke er flere på lager
Beskrivelse
Indeholder:
English:
Dette spil er rigt på temaer: Carriers, fighters, mines, cloaking, dreadnoughts, merchant shipping, colonization, mining, terraforming, shipyards, black holes, warp points, non-player aliens, Doomsday Machines- alt hvad en Epic Space Opera har brug for.
På trods af det er reglerne utroligt enkle, under de 20 års udvikling af spillet, er der lavet mange elegante løsninger for at fjerne kompleksitet og gøre spillet intuitivt.
1 til 4 spillere udforsker et nyt tilfældige univers hver gang spillet sættes op på ny.
Hvert felt på kortet kan afsløre en af ​​12 forskellige terræneffekter som asteroider, stjernetåger og planeter.
Terræn er vigtigt da det påvirker både kamp og bevægelse, samt hvordan du vil bygge dit imperium.
Spillere ekspandere deres imperium ved at danne kolonier (langsigtet stabil vækst), høste ressourcer (hurtig indkomst) og opbygge en handelsflåde (handelsindkomst).
Denne infrastruktur skal hurtigt udnyttes til at bygge en flåde på op til 10 forskellige klasser af krigsskibe og undersøge kritisk teknologi blandt andet 50 avancerede niveauer som er til din rådighed.
De konkurrerende imperier kommer hurtigt i kontakt og stræber efter at udrydde hinanden.
Det er her din teknologi og flådebeslutninger bliver afgørende.
Krigsførelse er enkel (der er ingen komplicerede diagrammer), men belønningerne er gode, samt en afbalanceret flådekonstruktion.
Der er flere scenarier for både solo og 2-spillere.
Flere spiller scenarier giver mulighed for co-op spil (Hold spil), herunder 2 spillere mod 1 i et spil med 3 spillere.
Scenarier kan tilpasses i længden (spille tid) og nogle kan færdiggøres på så lidt som en time
Mange aspekter af spillet kan afsluttes samtidigt af spillerne, så der er meget lidt vente tid.
Dette er et spil der kan gennemføres på en spilleaften!
For manual: TRYK HER
Spil gennemgang solo:
One mounted map (backprinted)
Four counter sheets
One Pad of Player Aid Sheets
Four 2-sided Player Reference Cards
16-page full-color Rule Book
16-page full-color Play Book
4 10-sided dice
Space Empires 4X is a game in the finest tradition of 4X space games - eXplore, eXpand, eXploit, and eXterminate. This game is Rich in Theme. Carriers, fighters, mines, cloaking, dreadnoughts, merchant shipping, colonization, mining, terraforming, shipyards, black holes, warp points, non-player aliens, Doomsday Machines - everything an Epic Space Opera needs. Despite that, the rules are Incredibly Simple. Almost 20 years in the making, many elegant solutions have been developed to remove complexity and make the game intuitive.
1 to 4 players eXplore the random map. Each space can reveal any of 12 different terrain effects like asteroids, nebulae, and planets. Terrain is important as it impacts both combat and movement, as well as how you will build your empire. Players then eXpand their empire by forming colonies (long term, steady growth), harvesting resources (quick income), and building a merchant fleet (trade income). This infrastructure must quickly be eXploited to build a fleet from up to 10 different classes of warships and researching critical technology from among 50 levels of advances at your disposal. The competing empires quickly come in contact and vie to eXterminate each other. This is where your technology and fleet decisions will be proven. Combat is simple (there are no complicated charts), but rewards good, balanced fleet construction. Building only the largest capital ship is not a good idea. Your fleets will actually feel like fleets!
There are Multiple Scenarios for both solitaire and 2-players. Multi-player scenarios have the option for team play, including 2 players against 1 in a 3-player game. Scenarios can be customized in length and some can be completed in as little as an hour. Many aspects of the game can be completed simultaneously by the players so that there is very little downtime. This is a game that can be completed in one sitting!