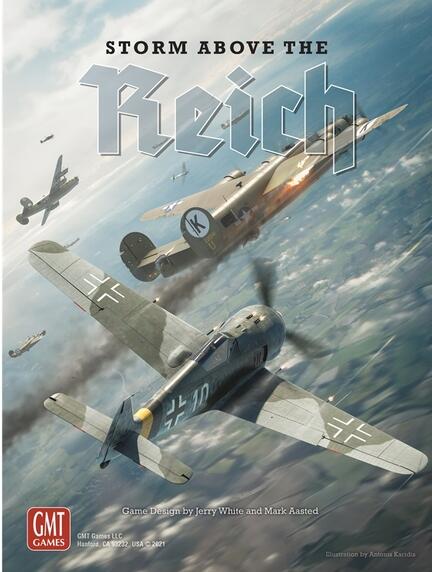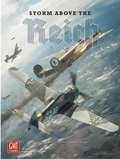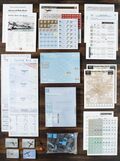 Storm Above The Reich
640,00 kr.
Varenummer: GMT2106
Storm Above the Reich er udviklet som et solospil der skildrer Luftwaffe's Fw190 som der kæmper for at afskrække og ødelægge de voldsomme dagflyvninger med bombefly over Tyskland under 2. verdenskrig.

Antal spiller: 1 - 4 / Spilletid: 30 - 60 min. / Alder 12+ / Sværhedsgrad: Medium / Udgivet 2021
Andre vare fra GMT Games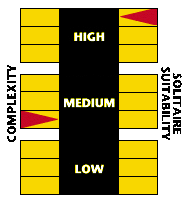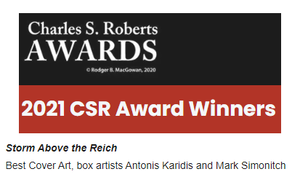 Priser er inkl. moms
Beskrivelse
Indeholder:
English:
Spillerens individuelle fly skal konfrontere den mægtige formation af United States Army Air Force, som er et dødbringende tæppe af B-24 Liberator bombefly.
Ligesom sit modstykke "Skies Above the Reich", er spillet en bred skildring der præsenterer en desperate luftkrig.
Fra slutningen af 1942 til begyndelsen af 1945 følger Storm Over the Reich en række missioner sat sammen for at lave en kampagne.
Hver mission tager en halv time eller mere at spille og en kampagne kan vare mellem 6 og 60 missioner.
Storm Above The Reich er et stand-alone spil som kan spilles direkte ud af boksen, men kan også bruges som en udvidelse til Skies Above The Reich.
For regler: TRYK HER
Spil gennemgang:
COMPONENTS

one 17" x 22" map board (double sided)
one 22" x 34" map board (double sided)
one 8.5" x 22" off-map display panel
one 8.5" x 11" pad: Pilot Roster & Staffel Log (double sided)
two countersheets (one sheet of 1" counters; one sheet of 5/8" counters)
60 blocks
two sticker sheets
96 attack and continuing fire cards
four bi-fold player aids (11" x 17", double sided)
one pursuit map (8.5" x 11", double sided)
one interception map (8.5" x 11", double sided)
one rule book
one situation manual
one advanced rule book
two 10-sided dice
Storm Above the Reich is a solitaire game depicting a Luftwaffe squadron of Fw190s struggling to deter and destroy the relentless daylight raids over Germany during World War Two.
The player's individual aircraft, each represented by a stickered block, must confront the mighty "combat box" formation of the United States Army Air Force, a deadly terrain of B-24 Liberator heavy bombers.
Like its counterpart, Skies Above the Reich, the game is a broad strokes depiction that presents the arc of the desperate air war.Stretching from late 1942 to early 1945, Storm Above the Reich follows that trajectory in a series of missions strung together to make a campaign. Each mission will take a half hour or more to play, while a campaign can last anywhere between 6 to 60 missions.