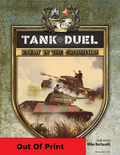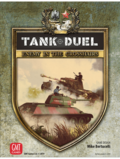 Tank Duel Enemy In The Crosshairs
625,00 kr.
Varenummer: GMT1906
Tank Duel: Enemy in the Crosshairs er et kortbaseret spil for 1 til 8 spillere, der skildrer kampvogn mod kampvogn krigsførelse på østfronten i Anden Verdenskrigs i midt 1940'erne.
Antal spiller 1 - 8 / Spilletid 60 - 180 min. / Alder 12+ / Sværhedsgrad: Medium-Light / Udgivet 2019
Andre vare fra GMT Games

Varen kan desværre ikke købes, da der ikke er flere på lager
Beskrivelse
Indeholder:
English:
Spillet forsøger at formidle den klaustrofobi og stres som kamvognsbesætninger oplevede i denne bitre konflikt, dette ved hjælp af et simpelt actionsystem der holder gang i handlingen og tempo.
Spillere vil udstede kommandoer ved brug af kampkort og forsøge at score sejrspoint ved at eliminere modstanders kampvogne og besætning.
Dette er en helt almindelig dag, som alle andre.
Solen ligger lavt i den tågede horisont på denne efterårs morgen.
Alt er som det plejer, her på på markerne og engene ude ved Stepperne.
Kommandør Garrison Dietrich rejser sig op gennem kuplen til den tiger, han har befalingen over og begynder at scanne landskabet. Han kigger fra venstre mod højre, fra højre til venstre og søger i horisonten efter et mål.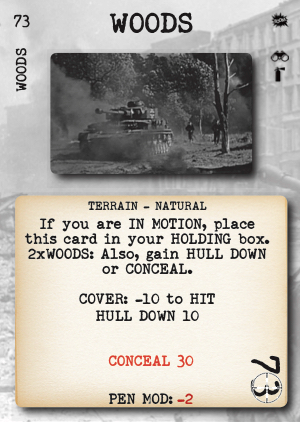 Han trækker vejret dybt og opfatter duften af metal, læder, sved og gamle cigaretter stiger inde fra den muggen kampvogn.
Han studerer landskabet og han lytter. Med hjertet bankende og sanserne højspændt er han klar…. fuld af forventning!!.
For kommandør Dietrich er krigsførelse fra en Tiger kampvogn meget mere end en duel og kræver så meget mere sin mand, fremfor afstands styrker som felt-artilleriet, bombeflyene, U-bådene, jægerfly eller et 88 mm Flak .
Kun T-34'erne i Den Røde Hær står i vejen for Hans Tiger og delingens sejren!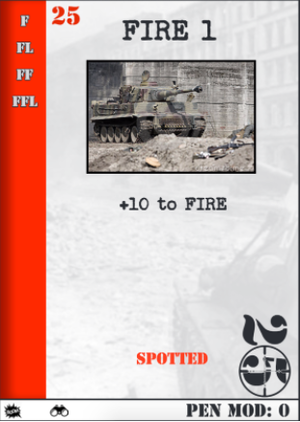 Pludselig til højre for ham, skræmmes en gåseflok op fra marken, og flygter hurtigt ude af syne.
Hurtigt vender Kommandør Dietrich blikket skarpt til højre og der, får hans øjne kontakt med en russisk T34.
Inde i kampvognens lukkede rum er hans team vågen og klar.
Gennem radioen hører de opkaldet: "Jeg ser dem på 1600, 1600 !!" Gennem det smalle rektangulære vindue forsøger føreren at lokalisere T34éren.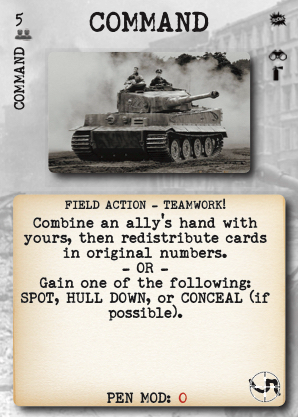 En AP bliver lagt i kammeret, og Skytten råber: "Klar til at skyde!", Også hans hjerte banker vildt.
Øredøvende lyde af, gearene, bogey -hjul over terræn og motoren, med dens voldsomme vibrationer.
Ved Kommandørens ordrer, bevæges tårnet langsomt og med en maskinel lyd, men er det for langsomt?
Den vågen skytte føler suset. "Jeg har dem i sigte, 1400 ... 1200! Ser du ham, ser du ham?" Panikken, angsten, adrenalinen er håndgribelig. "Jeg har dem sir, jeg har dem !!" Den forventede kommando kommer som kampvognene rykker frem ... "SKYD!" Skytten sigter, trækker i håndtaget og dens projektil er på vej ....
For regler: TRYK HER
Unboxing:
COMPONENTS
220 Cards
16 Full Color Mounted Tank Boards (8.5 x 11)
Two Full Color 5/8" counter sheets
1/2 sheet of 1" round counters
Rulebook
Scenario Book
8 Player Aid Cards
1 Solitaire/Advanced Rules Player Aid Card
Tank Duel: Enemy in the Crosshairs is a card-based game for 1 to 8 players that depicts tank-to-tank warfare on the Eastern Front of World War II in the early to mid 1940s. It attempts to convey the claustrophobia and urgency that tank crews experienced in this bitter conflict, utilizing a simple action system to keep the action moving at a rapid pace. Players will issue commands with the use of battle cards and attempt to score victory points by claiming objectives and eliminating their opponent's tanks and crew.
The day dawns like any other. The sun makes its way low over the misty horizon and stays low in the Autumn sky this morning. All is as it has always been in the fields and meadows of the Steppes. Commander Garrison Dietrich raises himself through the cupola of the Tiger he commands and begins to scan the landscape. He looks left to right, right to left searching the fields for his target. He breathes in deeply. The scent of metal and leather, sweat and stale cigarettes, rises from inside the musty tank. He studies the landscape and he listens. With heart pounding and senses alert he is poised…. anticipating. For Commander Dietrich, tank to tank warfare is more than a duel. Beyond the field-rocket artillery, the bombers and U-Boats, the single-seat fighters, beyond the 88mm Flak, is the Tiger. His Tiger and platoon, only the T-34s of the Red Army standing between them and victory!
Suddenly, to his right, geese startle from the tall, drying grass of the field. They fly fast and out of view quickly. Commander Dietrich turns his gaze sharply to the right and there, indistinctly outlined, silent, foreboding...his eyes make contact with it - a Russian T34.
Inside the tank, his team is alert and ready. In the confined space of the tank they are in position. Through the radio they hear the call, "I spot 'em at 1600, 1600!!" Through the narrow rectangular window the driver attempts to locate the T34. An AP shell is loaded into the breech. The gunner yells, "Ready to fire!" His heart, too, is pounding. Loud sounds now, the gears, the clacking of Bogey wheels over terrain, the vibration of the motor...then, "Hull down, hull down," is called out to the driver. The Commander orders, "Traverse, traverse...TRAVERSE!" The turret moves slowly, the sounds of machinery moving but slow, too slow! The alert gunner feels the rush. "I've got 'em in my sights, 1400...1200! Do you see him, do you see him?" The panic, the fear, the adrenaline are palpable. "I've got 'em sir, I've got 'em!!" The anticipated command comes as the tanks advance..."FIRE!" The gunner aims, pulls the lever, and its SHELL AWAY….