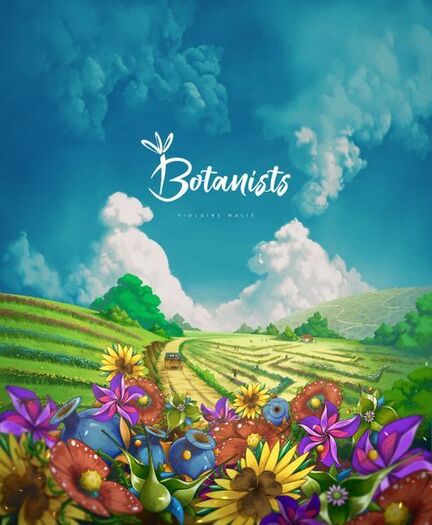 The Botanists
336,00 kr.
Varenummer: AGIE001
I The Botanist dyrker spillerne et lille areal af blomster, som de derefter håber at sælge.
Antal spiller: 2 - 4 / Spilletid: 30 - 60 minutter / Alder: 10+ / Sværhedsgrad: Medium / Engelsk manual
Priser er inkl. moms
Beskrivelse
Indeholder:
English:
Som botanikere har hver af spillerne tre små jordstykker dedikeret til at dyrke de mest populære blomster blandt deres sædvanlige klienter.

Alle spillere får dog frøene til disse blomster fra den samme leverandør og fordi ikke alle blomster er lige populære, sælger leverandøren kun frøene i bundter, oveni det kan andre botanikere forsøge at snuppe visse frø væk under din næse!
Spillere skiftes til at erhverve blomster fra blomstermarkedet. For at gøre dette kan de først flytte og derefter spille et kort der bestemmer hvilket "bundt" de køber.
Med hvert køb vil spillerne erhverve frø de ikke leder efter, så spillerne skal holde øje med åbne ordrer for at sikre at de får det bedste ud af hver tur.
Alternativt kan spillerne vælge at passe deres marginale land (ikke så frugtbart), i hvilket tilfælde de ikke vil være i stand til at købe nye frø, men i stedet vil være i stand til at udløse en bonushandling. Ved at gøre det vil spillerne dog ende med visne blomster, som vil generere negative point i slutningen af ​​spillet.
I slutningen af ​​deres tur tjekker spillerne de åbne ordrer, og hvis de er i stand til at opfylde nogen af ​​dem, tjener de ikke kun bonuspoint, men slipper også for potentielle negative point.
Solo regler: Tryk Her for solo regler
– 1 Main Board

– 5 Player Boards
– 5 Player Tokens (with 1 standee each)
– 5 Score Counters
– 145 Flower Tiles
– 76 Market Cards
– 82 Order Cards
– 1 Cloth Bag
In Botanists, players tend a small area of land to grow flowers, which they then hope to sell.
As botanists, each of the players has three small plots of land dedicated to growing the most popular flowers among their usual clients.
However, all players obtain the seeds to those flowers from the same supplier, and because not all flowers are equally popular, the supplier only sells the seeds in bundles, on top of that, other botanists might attempt to snatch certain seeds away from under your nose!
Players take turns in acquiring flowers from the flower market. To do so, they may first move and then play a card that determines what "bundle" they are buying.
With each purchase, players will acquire seeds they are not looking for, so players are required to keep an eye out for open orders to make sure they make the best out of each turn.
Alternatively, players may choose to tend their marginal land (not so fertile), in which case they won't be able to buy new seeds, but instead will be able to trigger a bonus action. In doing so however, players will end up with withered flowers, which will generate negative points at the end of the game.
At the end of their turn, players check the open orders and if they are able to fulfill any of them, they not only earn bonus points, but also get rid of potential negative points.